Top 5 Công ty in thiệp cưới tại Huế đẹp, giá rẻ, chất lượng (Cập nhật)
The demand for printing beautiful, cheap and quality wedding cards in Hue is increasing day by day. Therefore, now there are many companies and printing shops operating to meet the needs of couples. However, to find a professional place with many beautiful, unique and quality card templates is not easy at all. In order to help readers save time and effort, TopAZ Review has summarized the top 5 beautiful wedding card printing companies in Hue right in this article. Follow along to choose the one that suits you best.
Review top 5 wedding card printing companies in Hue beautiful, cheap, and quality
If you are looking for a professional wedding card printing address in Hue, please refer to the top 5 addresses that have been summarized by TopAZ Review right below:
#01
HT Print
HT Print is a very famous wedding card printing shop in Hue, founded by members who have a great love for paper. With the motto "To stick with a job for a long time, we need a good relationship…" HT Print always wants to bring good omens to the cards announcing the good news related to the marriage of couples to come. friends, relatives.
In each HT Print wedding card, each couple will have stories with their own unique imprints. Here you are free to change the color to your liking, change the font, etc. until you are satisfied. In addition, the store also accepts greeting cards, table cards, thank you cards – rsvp cards, etc. All are designed according to customer requirements with a full range of styles from simple to complex.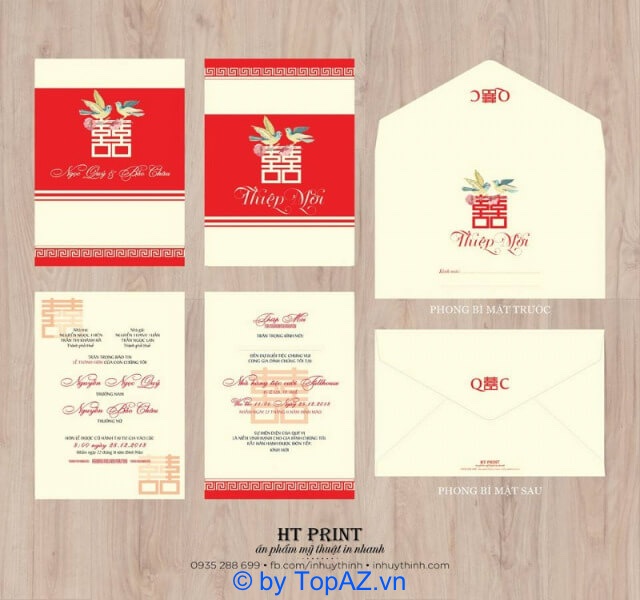 The material used by HT Print to make wedding cards is high-quality paper imported from home and abroad. Along with that is a system of modern machinery and the use of quality ink to bring the best quality cards. The card here has sharp, clear colors and words, not deviating from the original design. The price is extremely affordable, suitable for the budget of most couples.
With the motto that quality goes with price, HT Print always tries to improve service quality every day. So that customers can experience the service with the best quality. Let's accompany HT Print to create a beautiful memory for the most important day of your life!
Contact information:
Address: 14 Dien Bien Phu, City. Hue, Thua Thien Hue
Hotline: 0931 821 823
Facebook: FB.com/inhuythinh
Email: inhuythinh@gmail.com
#02
Thien Loc wedding card
Thien Loc Wedding Invitation Shop is one of the addresses providing beautiful, cheap and quality wedding card printing services in Hue. Established in 2013, after only a few years of operation, Thien Loc has achieved certain successes and gained a firm foothold in the market.
Wedding invitations here are designed based on the available templates, your own requirements or the ideas of customers. With a team of professional workers, many years of experience, Thien Loc is committed to creating cards according to customer requirements so that when the guests receive them, they will admire and praise the bride's aesthetic taste. groom.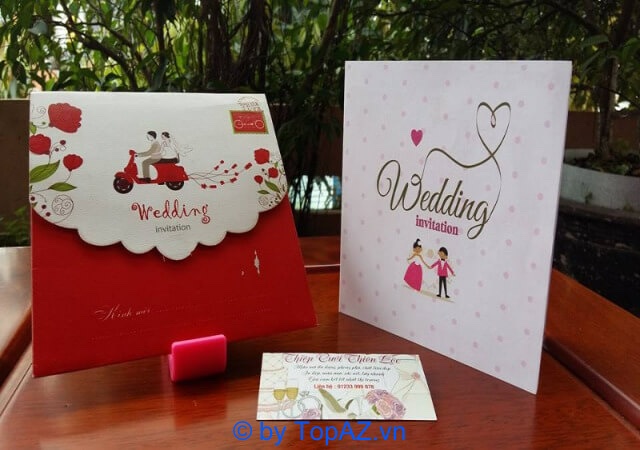 Regarding printing materials, the store always prioritizes the use of standard and high-quality printing paper and ink. Besides, the store also combines a lot of printing techniques together. For example, gilding, printing braille or making flat-print envelopes. Affordable price, suitable for customers' finances.
Thien Loc wedding cards can meet all printing requirements with special designs and best quality. Therefore, this is definitely a place to help you own beautiful cards, impress guests, so don't forget to come here to use the service!
Contact information:
Address: 66 Xuan Dieu, City. Hue, Thua Thien Hue
Hotline: 0833 999 078
Website: thiepcuoithienloc.com
Email: hongtuyet078@gmail.com
Facebook: FB.com/thiepcuoithienlochue
#03
Duy Thuan Wedding Cards
Duy Thuan Wedding Invitation Shop received a lot of favor from couples in Hue. Because here there are suitable suggestions and useful tips for customers. Besides, the models are diverse, the design is very beautiful and they always come up with impressive, unique and almost "untouchable" new designs.
Here offers a full range of cards from cheap to high-end. Various materials for making wedding cards, using high-grade ink and modern equipment have produced quality products. Wedding cards with modern, youthful colors, suitable for today's young people.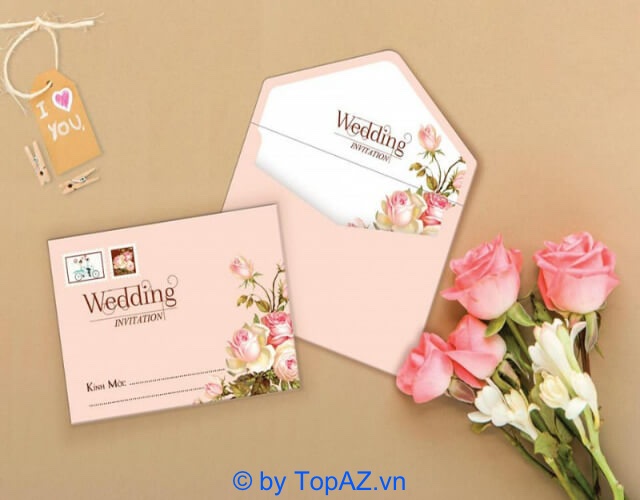 Before handing over to the customer, the wedding cards will be thoroughly checked to make sure they are perfect and do not appear to have any errors. Therefore, customers can rest assured to use as well as pay the cost without worrying about affecting the wedding ceremony.
The price of a wedding card will depend on many factors such as quantity, design, … but in general, it is quite reasonable. The store often has attractive incentives and promotions, looking forward to receiving support and trust from customers. This is a professional wedding card printing address in Hue, you can rest assured to use the service.
Contact information:
Address: 4 Kiet 263 Ba Trieu Street, City. Hue, Thua Thien Hue
Hotline: 0914 517 427
Facebook: FB.com/Wedding Cards-Duy-Thuan-333158060442513
#04
Hue card workshop
This is the address that provides cheap and beautiful wedding card printing services in Hue. Hue card factory is trusted and preferred by many customers in this area. The store's employees are all well-trained, so they have good taste and creativity. They will bring beautiful, unique wedding card designs, according to the wishes of each customer.
Before designing and producing cards, customers will be suggested and given useful tips to make an accurate decision, without mistakes. With modern digital printing technology, it helps to create wedding cards with clear images and high color coverage. Therefore, you can come up with your own design ideas, choose colors and then request printing. There is no limit to the number of colors and no pay for each print color.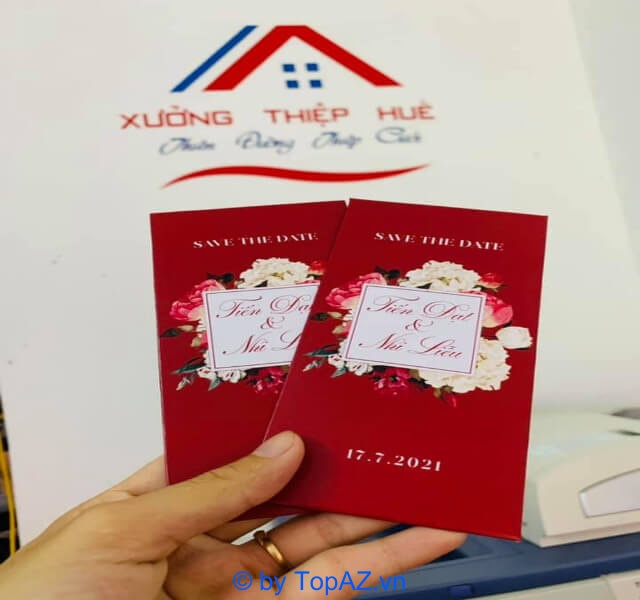 In particular, printing wedding invitations at Hue Card Factory is extremely competitive. If you print wedding cards in large quantities, you will receive attractive incentives or discounts. On the other hand, you will be able to check the card before receiving it, if you find an error, the store will support the cost and reprint it at no extra charge.
Contact information:
Address: No. 2 Kiet 63 Dien Bien Phu, City. Hue, Thua Thien Hue
Hotline: 0368 466 684
Facebook: FB.com/XUONGTHIEPHUE
Email: xuongthiephue@gmail.com
#05
An Hieu Wedding
If you are looking for a beautiful, cheap and quality wedding card printing address in Hue for printing, An Hieu Wedding will be the choice not to be missed. There are always staff members who listen to ideas and create custom wedding invitations at a reasonable cost.
An Hieu Wedding is the first unit in Hue to use equipment of digital printing technology Fuji Xerox – this is a prestigious and quality printer company in the world. The cards here are of good quality, without color fading, the images and words are very clear and vivid.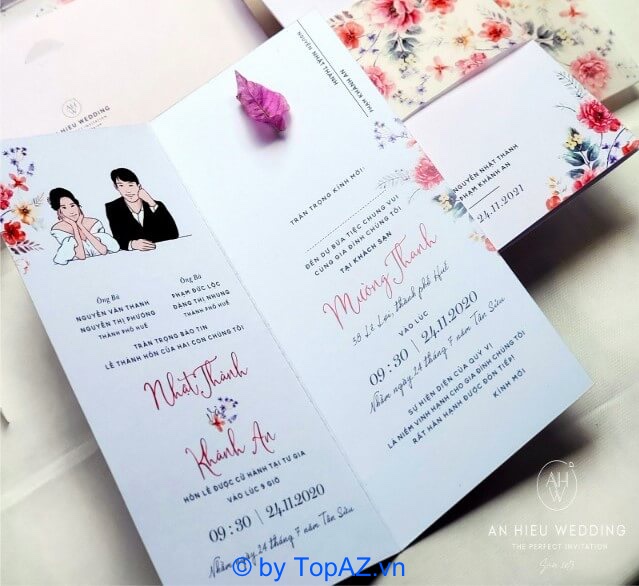 Despite possessing many outstanding features, the wedding invitation price is extremely reasonable, suitable for all customers. In particular, there are many incentives for customers who order in large quantities and always ensure fast printing speed, beautiful printing, on-time delivery, without affecting the marriage.
Contact information:
Address: 6/20 Nguyen Cong Tru, City. Hue, Thua Thien Hue
Hotline: 1900 7020
Website: anhieuwedding.com
Email: anhieuwedding@anhieumedia.com
Facebook: FB.com/anhieuwedding
Notes to know when printing wedding invitations in Hue
When printing wedding invitations in Hue, you need to pay attention to a few things as follows:
Make card printing early:
As soon as you close the list of guests attending the wedding, you should proceed to order printed cards, the appropriate time is about 1 month before the organization. Because the process of choosing a card template will take a lot of time. Especially if you want to print your own design card, you will need to come up with ideas and edit, go through many stages.
Normally, after ordering, the factory will print soon for customers. It will take about 1-2 weeks depending on the quantity ordered. However, in the peak period, the number of printed cards is too large, which can slow down the delivery time. Therefore, to prevent problems and avoid unnecessary troubles, you should order early card printing.
Choose the appropriate card design and material:
Determine the shape of the wedding card you want, and choose the design according to your preferences. You can choose from the available templates of the printing party to save money and time. Or you give your ideas for design support. However, when printing custom designed cards, the cost will be higher than the available templates.
Wedding card printing paper also has many types with different quality. You should refer to the paper directly printed at the store to choose a guaranteed type. Because the quality of the paper greatly determines the aesthetics of the card, clearly showing the beautiful drawing of the design, bringing elegance and distinctiveness to the whole set of cards.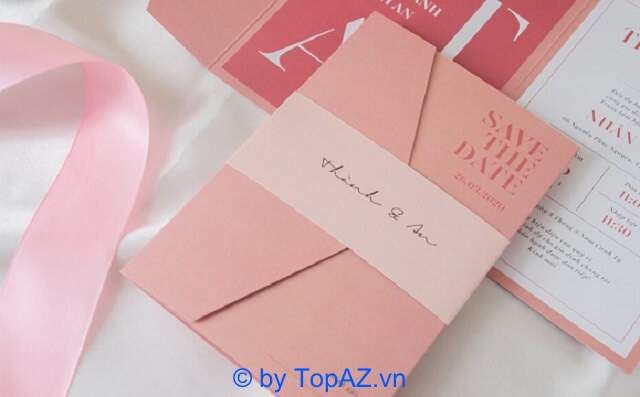 At the same time, it is necessary to consider the budget you plan for card printing to choose the right card template and material. With beautiful, sophisticated card templates, high-quality materials, the cost of printing will be higher than those of simple and popular models.
Prepare enough information about the wedding:
Before printing wedding invitations, you must have specific information about the wedding to print on the card. The basic content will be needed such as: Name of the bride and groom, names of parents on both sides, home address, date of marriage, time and place of the event, etc.
A card with full information about the wedding will help customers understand important information to attend. After you have the information, please give it to the printing unit and ask for a sample for reference first.
Let's print a few more cards:
Although it is done to order the wedding card after the guests have been counted, you should still print the excess. These cards will be used in case you missed the guest list or in the process of writing the invitations there was an error.
Select printing technology:
Popular card printing technologies today can be mentioned as offset printing, silkscreen printing, digital printing. However, this is just 2D printing technology, creating a normal effect. If you want to own unique cards, you can apply technologies such as: imprinting – embossing, needle pressing – emulsifying or laser cutting techniques to create sophisticated patterns.
Test print and color check:
In case you require to print high-class wedding cards according to your own design, you should ask the printing unit to perform a test print before proceeding to print in bulk. The test print will help you check the color of the card, the design of the card, the spelling, etc. to make sure to create a perfect wedding card.
Learn more about printing service providers:
As mentioned a lot above, the printing unit will determine the quality of the wedding card. Therefore, find out carefully the unit that you plan to print, see how it works, design capabilities, printing technology used, service quotes, etc. to choose the most suitable unit.
---
Choosing a professional wedding card printing place in Hue will help you own the most satisfactory cards. Above are the top 5 wedding card printing companies in Hue that are beautiful, cheap, and of high quality that are highly appreciated and loved by customers. Hopefully, the information that TopAZ Review summarizes above can help you make the correct choice of a suitable and reliable printing unit.