Top 5 Công ty vệ sinh nhà xưởng tại Long An uy tín, dịch vụ chuyên nghiệp (Cập nhật)
If readers are wondering about the factory cleaning company in Long An, you can refer to the information compiled by TopAZ Review. Choosing the wrong facility will cause customers many unnecessary risks, affecting the health of workers. Be careful in choosing to have a clean and safe workspace.
Review of 5 quality and cheap factory cleaning companies in Long An
Prestigious, high quality and efficient factory cleaning companies in Long An can be mentioned as Green House, An Khang Company, Kizuna JV Joint Stock Company, AA Clean Company. The following information will help customers consider and choose the most suitable unit:
#01
Nguyen Trung Green House Co., Ltd
Nguyen Trung Green House Co., Ltd. is one of the addresses providing prestigious and quality factory cleaning services in Long An. The company was born in 2015 in Ho Chi Minh City, then developed to neighboring areas, receiving good reviews from customers.
Green House provides services such as industrial cleaning, factory cleaning, house cleaning, building glass cleaning, etc. This place constantly strives to provide customers with superior technological hygiene solutions, withdrawing products and services. Short lead time, reasonable price.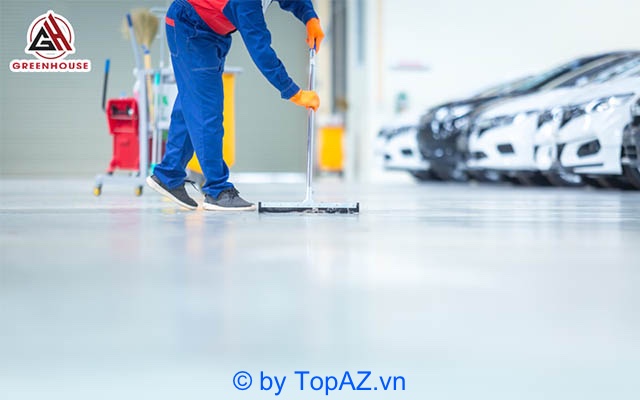 The company owns a team of good, enthusiastic, and highly responsible employees for work and customers. Employees are deeply trained in safety and protection when cleaning the factory, ensuring safety throughout the working process.
In order to make cleaning services faster and more efficient, the company has invested a lot in modern tools and machines with clear origin and safe for users. With the good working capacity of the machine, the cleaning process will be shortened and on schedule agreed with the customer. Besides, cleaning chemicals have no harmful ingredients, leaving no unpleasant odors.
The company receives factory cleaning with services such as:
Dust cleaning service, sweeping spider webs for factories
Glass and aluminum cleaning service
Cleaning floors, floors, factory equipment
Polishing concrete floors, cement floors for factories
Regular cleaning, hourly, monthly
General cleaning of the factory
Disinfection of factories and factories with a spray system
Details:
Address: 56 Tran Sac Phong, Ward 4, City. Tan An, Long An
Phone number: 0962 004 246
Email: vesinhgreenhouse@gmail.com
Website: vesinhgreenhouse.com
#02
An Khang Company
An Khang Company is known by many customers as a unit providing cleaning services for factories, cleaning of general works, offices, buildings… With quality service, good staff, fast process compact, the unit is gradually trusted and chosen by customers, has a solid position in the market.
The company has many years of experience in the field of factory cleaning, owns a professional operating process. After receiving information from customers, the company will send staff to the site to survey to easily plan cleaning as well as prepare machinery and equipment. Next, staff will conduct cleaning in each area to remove stains and garbage completely.
Reasons for choosing factory cleaning service at An Khang Company:
The staff is well-trained, professional working style, dedicated to work and customers. They have many years of working experience, handle stains well, helping the workshop space become clean.
Machines and equipment are fully equipped, modern, with good performance. Safe cleaning chemicals, no harmful ingredients that affect human health, do not leave unpleasant odors after finishing cleaning.
General cleaning of the factory or by area, meeting all the needs of customers. Each location is cleaned, completely removing dirt or waste during the production process.
The cleaning time is fast, flexible, meeting the agreed schedule, without affecting the work of the customer.
There is a detailed and clear price list for customers to refer to. This place minimizes costs incurred, if any, will notify customers in advance.
Contact Info:
Address: 61 Vo Van Ngan, Ward. Duc Hoa Ha, H. Duc Hoa, Long An
Phone number: 028 2266 2211
Email: vesinhankhang.vn@gmail.com
Website: congtyvesinhlongan.com
#03
Viet My Industrial Hygiene
During 15 years of operation in the field of factory cleaning, Viet My Industrial Hygiene has constantly innovated, improved processes, improved service quality, and brought customers satisfaction. The company has also successfully applied ISO 9001-2000 quality management.
The company expanded many branches, in most provinces and cities, including Long An – the third province in the country in terms of industrial park scale. This place always tries to create a safe cleaning environment, helping customers remove stains and waste in the workshop.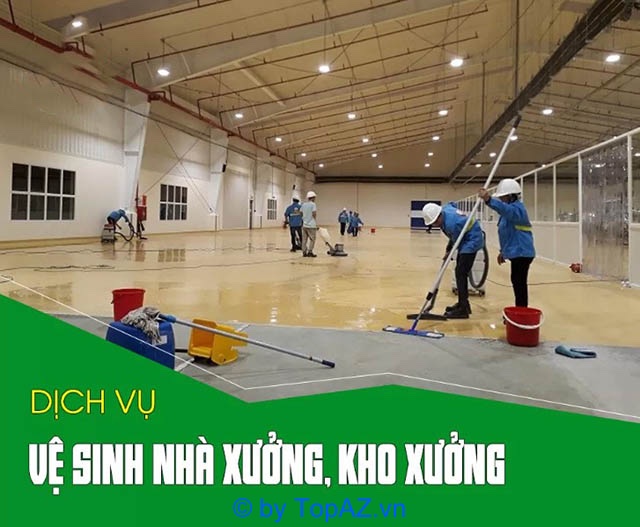 Factory cleaning service includes the following activities:
Sweeping cobwebs, dust on the ceiling of the factory, vacuuming pipes, electrical troughs and factory walls.
Cleaning and polishing factory floors (cement floor, tile floor, epoxy floor…).
Factory epoxy floor paint,
Wash the corrugated iron roof on the ceiling and around the factory walls.
Clean water tanks, chimneys and other items.
Periodic cleaning of the factory by month, quarter or year.
All requests for factory cleaning services of customers will be received and implemented by the company in the best way. Services have contracts with each clear terms, ensuring the interests of customers.
Experienced staff, with modern cleaning methods, suitable for the condition of the factory, in order to bring the best possible effect. Not only have high expertise and professional working style, they are also enthusiastic and dedicated to their work, helping customers have a clean and safe workshop space.
The chemicals the company uses to remove stains do not contain harmful ingredients. Viet My facility is very focused on customer health, so the service always puts safety first. Chemicals used are odorless, non-toxic, of clear origin, tested for safety before being put into use.
Viet My Company uses modern machinery, standard and high efficiency cleaning technology. After completion, the customer will check and accept, ensure satisfaction with the results achieved. Factory cleaning service costs are notified to customers from the very beginning, without incurring.
Contact Info:
Address: 40 Tra Quy Binh, Ward 2, City. Tan An, Long An
Phone number: 0797 658 886
Website: vesinhnha24h.net
#04
Kizuna JV Joint Stock Company
If you are wondering to choose a reputable factory cleaning facility in Long An, the name Kizuna JV Joint Stock Company is a suggestion worth considering. This place always puts customers at the center of all its activities, striving to improve the quality and professionalism of its services.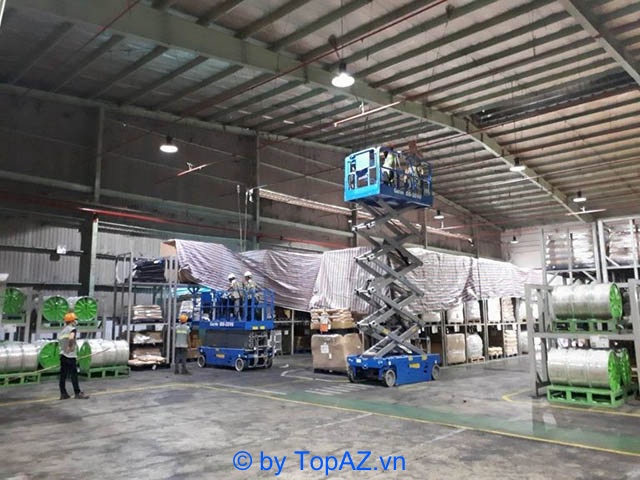 Reasons for using factory cleaning service at Kizuna JV Joint Stock Company:
Diverse factory cleaning services: general cleaning, cleaning of ceilings, walls, cable car systems, electrical wires, equipment systems, wall hangings, machines, floors… All requirements of customers will be met by the company, bringing satisfaction.
Professional cleaning process with clear steps. Survey the factory before carrying out cleaning to facilitate the quotation, preparation of machinery and methods of implementation. The unit will list the tasks performed for customers to easily track.
Dedicated, enthusiastic staff, always follow the hygiene steps. Always inventory and protect assets and machinery in the workshop.
Machines and equipment supporting the cleaning of the workshop are fully equipped and modern, providing good operating capacity. Cleaning chemicals are licensed for circulation by the Ministry of Health, safe for users, leaving no unpleasant odors.
Cleaning quickly, on schedule, does not last long, affecting the work of customers. Customers can supervise the cleaning process if they want, only pay the cost after acceptance.
Contact Info:
Address: Lot K, Tan Kim Industrial Park, Can Giuoc District, Long An
Phone number: 0272 3900 191
Email: info@kizuna.vn
Website: kizuna.vn
#05
AA Clean Company
Established in 2006, AA Clean Company has continuously developed and expanded its operation scale in the field of factory cleaning, construction cleaning, cleaning services, polishing stone floors, wooden floors… constantly improving and developing its services, giving customers good hygiene results, having a clean working environment.
AA Clean company owns a factory cleaning team with many years of experience, good workmanship, dedicated to the job, cleaning every corner in the corporate warehouse, returning a clean, cool space, eliminating any dirt or trash.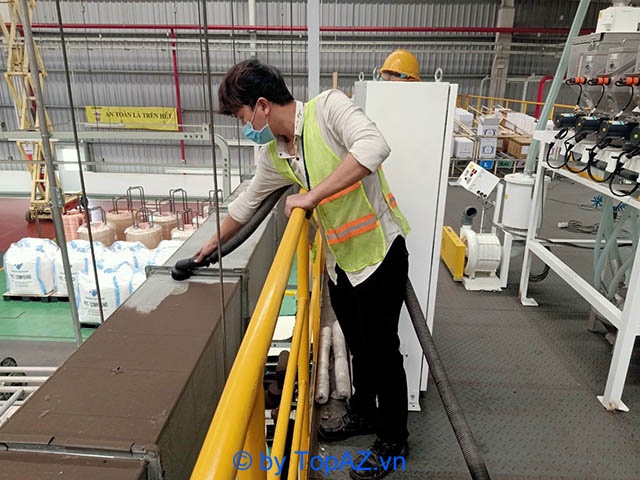 Diverse factory cleaning services, ready to meet all customer requirements. In particular, the company develops periodic factory cleaning services, in order to create a healthy working environment, protect the health of employees, reduce the risk of fire and explosion as well as protect goods.
The company always surveys the factory situation before conducting cleaning, in order to offer the most suitable method, bringing high efficiency, without affecting the production activities of customers. With each location, each material in the workshop, the company will have a different solution, ensuring cleaning efficiency, without affecting the customer's property.
The company publishes the price list for customers' reference. After reviewing the condition and size of the workshop, the company will quote a detailed price, sign a clear contract and conduct cleaning. The process was done quickly and on schedule.
Contact Info:
Address: 400/1 National Highway 1A, Long Hiep Ward, TT. Ben Luc, Long An
Phone number: 0901 200 008
Email: aaclean.dichvu@gmail.com
Website: dichvuvesinh247.net
Tips for choosing a reputable and professional factory cleaning company in Long An
Cleaning for the factory is one of the important jobs that businesses need to pay attention to. Because working in a polluted environment will greatly affect the health of employees, reduce work performance, and cause losses to businesses. In addition, the periodic inspection and cleaning of the workshop will help businesses detect the risk of fire and explosion such as old equipment, material leakage, etc., thereby preventing it in time.
Currently, in Long An in particular and other cities in general, there are many companies developing factory cleaning services. If you are having a hard time choosing, you can refer to the following tips:
Staff: The company owns a good staff, working professionally, with many years of experience, which will help improve service quality. Employees handle the situation well, clean every corner of the factory, do not affect customers' machines and equipment.
Professional process: Most quality companies perform factory cleaning services with steps such as receiving information, surveying, providing methods and quotes, performing services, and taking over. Each specific and clear step will help customers easily follow, bringing good results.
Devices: This is an important factor, supporting the quick cleaning process, achieving the best results, saving effort. Some stains or sanitary positions that cannot be handled by humans, machines and equipment will quickly and safely remove them.
Use of benign chemicals: Many poor quality units, using toxic detergents, greatly affect human health. Readers can review the company's chemicals before implementation, ensuring the product does not have harmful ingredients.
---
Conclude: Finding and choosing a reputable factory cleaning company in Long An is essential to protect the health of workers. Working in a clean environment is always safer and more comfortable than a workshop full of dust and cobwebs.
MAYBE YOU ARE INTERESTED: