Top 5 Địa chỉ Đặt hoa khai trương ở Q Bình Thạnh uy tín nhất (Cập nhật)
Flowers are always present in every celebration, birthday, or wedding. In particular, the appearance of fresh flower baskets on the opening day plays a very important role. TopAZ Review has listed for you 5 addresses to order beautiful and professional opening flowers in Binh Thanh district for readers to have more suggestions.
Review of 5 places to order flowers to open in Binh Thanh beautiful, fast delivery
Giving flowers is always a cultural feature to keep the relationship between partners and friends. It not only brings cohesion but also shows elegance and sophistication. Therefore, a beautiful flower shelf and flower basket opening on this happy day is indispensable.
Let TopAZ Review help you find a beautiful opening flower address in Binh Thanh with cheap price.
#01
May Petals
May Petals was built by a group of young people who love the beauty of flowers. With the desire to spread this love to everyone, May Petals – Saigon Fresh Flowers was born.
The flower shop is located at the corner of Nguyen Gia Tri street, where there are many young people, students, and students. Therefore, the selling price of flowers is always at an appropriate level. Flowers at the shop include many types with all kinds of rare and diverse colors. Not only are they taken from Dalat Flower Farm, but also some exotic flower varieties such as Ecuadorian roses, Ohara roses or Juliet million dollar roses are all imported from the West.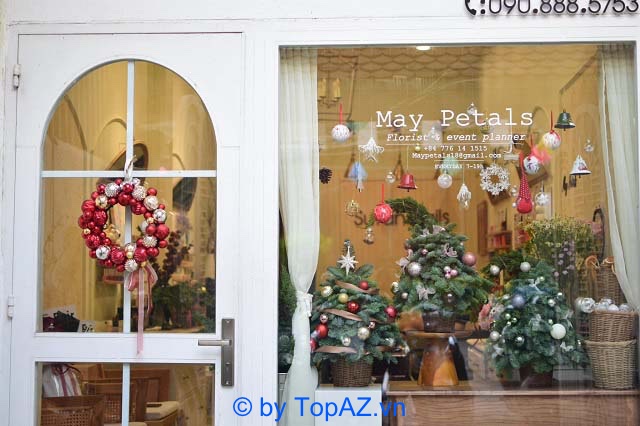 The flower shop imports seasonal flowers to ensure flowers have fresh colors, reasonable prices, as well as stay fresh longer. In each season, the shop has a different way of wrapping and arranging flowers. If you are looking for a place to order flowers that are both beautiful and cheap in Binh Thanh, you must definitely visit May Petals.
May's owner always updates the new models that are on the shelves during the day on the personal page of the shop. In particular, the shop also accepts flower arrangements on request, whether flowers for the opening ceremony, flowers for birthday gifts or congratulatory flowers are carefully wrapped.
Moreover, when you come to May Petals fresh flower shop, you will be immersed in the real flower world. Flowers at the shop are combined in a uniform tone, creating a feeling of closeness and warmth.
The space of May Petals is beautifully designed. Every detail of the shop's decorations and items are arranged neatly and delicately by the owner. The glass that is installed is completely transparent white glass, creating a bright feeling for the whole room.
Contact Info:
Address: 69/02/35 Nguyen Gia Tri, Ward 25, Binh Thanh District, City. Ho Chi Minh
Phone number: 0776 141 515
Email: maypetals18@gmail.com
Fanpage: FB.com/MayPetals0105
#02
Da Lat Hasfarm
Next is Dalat Hasfarm – the most prestigious address to order flowers to celebrate the opening in Ho Chi Minh City with many designs. When you come to Dalat Hasfarm shop, Binh Thanh district, Ho Chi Minh City, you will definitely find the right flower pattern to give to friends and partners.
The shop's staff are experienced workers who warmly welcome and advise customers. Moreover, the gift sent to the recipient is always carefully completed, from the color, to the design and even the congratulatory messages are expressed with the most meaningful messages.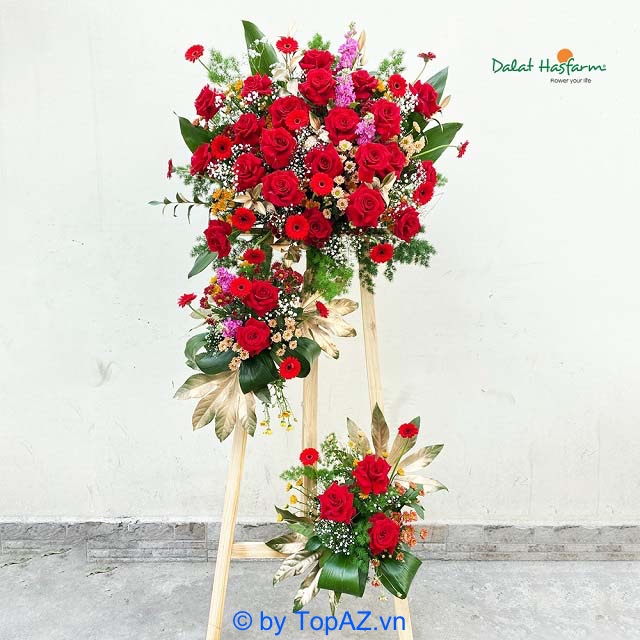 You can visit the shop directly to choose the available models or order flowers online when you don't have much time. You can rest assured because Dalat Hasfarm's professional way of working always satisfies customers, the shop is committed to delivering the right flowers and the right model.
In order not to interrupt your party, flower delivery time at Dalat Hasfarm is only from 1 hour, extremely fast. Friendly and professional flower delivery staff. Each flower basket, opening flower shelf delivered to customers is beautiful and retains its original shape.
When visiting to buy flowers to celebrate the opening at Dalat Hasfarm Binh Thanh, you feel like coming to a real miniature flower farm. Because the scent of sweet flowers spreads throughout the shop space, the bright colors and imported flowers of many types look extremely beautiful. The shop also received opening flowers with vegetables and fruits that created unprecedented excitement – a meaningful gift for the recipient.
Contact information:
Address: 56 No Trang Long, Ward 14. Binh Thanh District. City. Ho Chi Minh
Phone number: 0283 5515 479
Email: minhthi@dalathasfarm.com
Website: shop.dalathasfarm.com
Fanpage: FB.com/hasfarm.binhthanh
#03
Saigon flower shop
When receiving a grand opening invitation, you have a headache thinking about what gift to choose that will be meaningful. Magical cake, souvenirs or flower shelves are indispensable things on this special day.
At Saigon Flower Shop, there are always special and eye-catching opening flower samples available to make your gift impressive in the eyes of the opposite person.
Saigon Flower Shop has two locations, in Hanoi and Ho Chi Minh City. Whether ordering at a fresh flower shop in Hanoi or an address in Ho Chi Minh, the system is committed to using fresh flowers and providing perfect service quality to satisfy customers.
The flowers presented at the opening of the shop are always carefully wrapped and done with the utmost care. The designs in the shop are always beautiful and are made according to the color tone required by the customer. Sometimes it's a big bouquet, sometimes it's a flower basket, a stand out two or three-tiered flower shelf. Each product comes with a banner, card and opening greetings.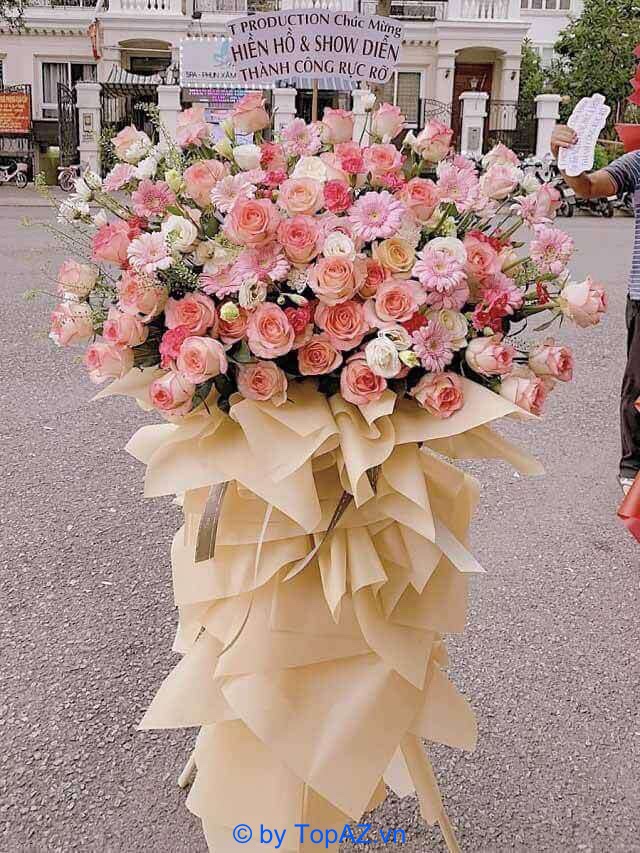 Besides, when the demand to order flowers re-opened coincides with major holidays (March 8, October 20, November 20, …). Please contact the store in advance to get the perfect gift. Because these days, the number of flower orders is extremely crowded, to avoid situations such as being full or not delivered on time, the shop encourages customers to order flowers 1-2 days in advance.
Saigon flower shop continues to share beautiful pictures and flower samples on its fanpage for customers to follow. The shop is also a familiar flower place of Vietnamese showbiz. In the opening sessions, the premiere of music and film products, the shop always receives orders from representatives of artists and brothers and sisters.
Flower prices at the shop range from a few hundred to several million dong. Depending on the number of flowers as well as the import price of each type, flowers at Saigon Flower Shop will have different prices.
Contact Info:
Address: 208 Nguyen Huu Canh, Binh Thanh District, City. Ho Chi Minh
Phone number: 0964 236 121
Email: tiemhoasaigon2020@gmail.com
Fanpage: FB.com/Tiemhoasaigon1991
#04
Saigon Fresh Flowers
Saigon fresh flowers is one of the famous fresh flower shops in Ho Chi Minh City. Fresh flowers are committed to quality, with a reputable flower delivery service in the city and extremely easy payment.
Saigon flowers in Binh Thanh include flower services such as congratulatory flowers, birthday flowers, condolence flowers, wedding flowers. With beautiful and impressive designs. Depending on your budget and preferences, the salon will design according to customer requirements.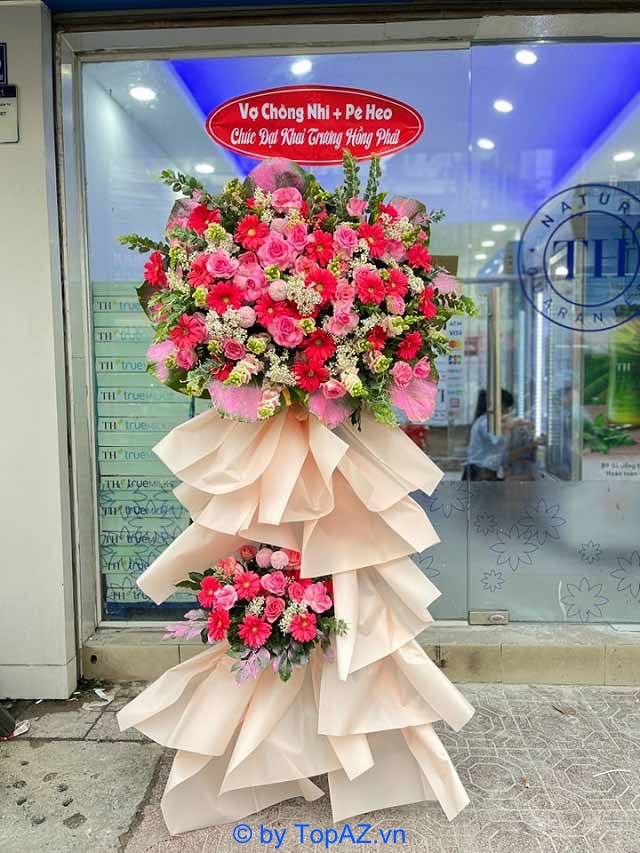 At the same time, the staff of Saigon Fresh Flower House are experienced workers who are constantly learning to create unique and beautiful flower designs. The store always has cards designed specifically to match the style of each flower basket. Or, depending on the wishes of the customer, the shop also supports handwritten cards to send meaningful wishes to the recipient.
Contact Info:
Address: 128 Le Quang Dinh, Ward 14, Binh Thanh District, City. Ho Chi Minh
Phone number: 0909 994 213
Email: ngothuyhoangyen@gmail.com
Website: shophoasaigon.vn
Fanpage: FB.com/hoatuoi.hoacuoi.dienhoa
#05
Fresh Flowers SaiGon Follow
At SaiGon Follow Fresh Flowers, in addition to the usual flowers, the shop also has imported flowers such as blued peony, Dutch baby flower, orange spirit rose suitable for opening gifts. Especially the flower shelves to congratulate the opening, congratulating the conference at the shop are always luxuriously and brilliantly designed, so that your gift becomes even more meaningful.
Every flower arranger at SaiGon Follow takes care of each of their products. From choosing the freshest flowers, to the color scheme, choosing the right flower wrapping paper to create a uniformity. The shop also supports customers to order flowers online, saving you time and effort in shipping. The shop is committed to completing the flowers on time and according to the model.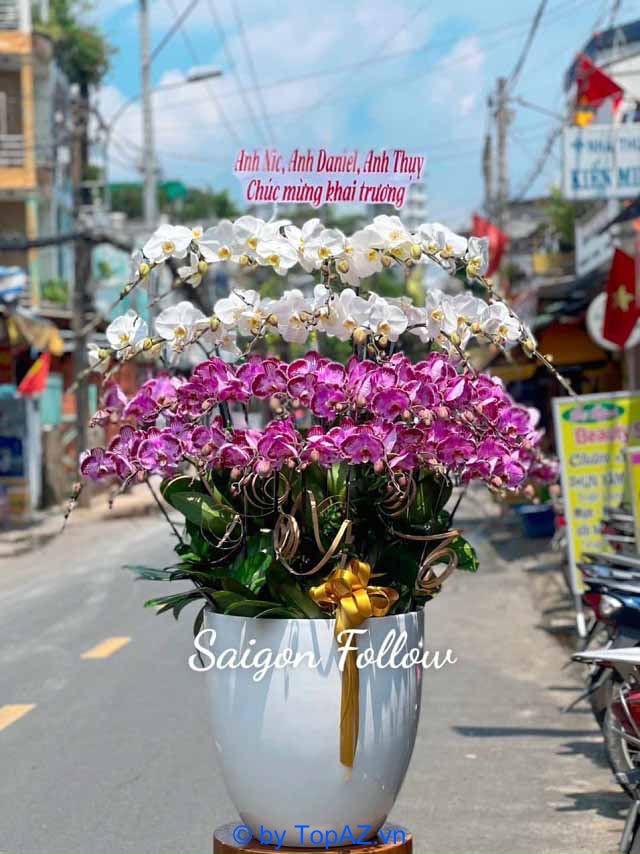 If you are confused about how to choose and design an impressive opening flower for your friends, please share your wishes with a consultant. The shop's team always supports customers enthusiastically, from choosing the right flower model, as well as sending meaningful wishes to the recipient.
Advantages of flower ordering service at SaiGon Follow:
Many beautiful models, committed to fresh flowers, reasonable prices
Customers who order flowers in advance will receive a good discount
Invoice available upon request
Take a photo and send it to the customer for confirmation before flower delivery
Contact Info:
Address: 9B Vu Ngoc Phan, Ward 13, Binh Thanh District, City. Ho Chi Minh
Phone number: 0786 864 201
Email: follow.saigon@gmail.com
Fanpage: FB.com/profile.php?id=100063896390797
Experience choosing the address to order flowers to open in Binh Thanh district
Giving flowers has become a meaningful spiritual gift for the recipient. But, it will be very disappointing if the gift you have carefully chosen is not as expected when it reaches relatives and friends.
To avoid the above situation, you should refer to the 4 experiences selected by TopAZ Review below:
Buy flowers at major addresses: These flower shops import flowers in large systems, so they have a variety of varieties. Therefore, the price will also be cheaper, and the flowers will also be fresher. If you buy at establishments with unknown addresses, you will encounter a situation of mixing old flowers and poor quality flowers to sell to increase profits.
Skilled Artists: To design a beautiful flower basket is not easy, requires the skill of the florist to be as high as possible and to have good taste. The flowers are ordinary, but when they experience the mature hands of the "florists", they become special and have their own message.
Delivery on time: There will be no big problems if your party lacks the opening flowers. But, for the party to be the most complete, for your gift to be delivered to the recipient with the most meaning, it is not good to be late when delivering flowers. A reputable flower ordering address in Binh Thanh must ensure fast and on-time delivery. The purpose is to be on time for the opening as well as to prevent the flowers from wilting when exposed to the sun for too long.
Enthusiastic consultant: This is very necessary because each flower has a different meaning. Therefore, you need to be consulted clearly to choose the right type of flower depending on different purposes. Moreover, sometimes you don't have time to visit the store in person, so the online consultation of the staff is important to help you find the beautiful flower pattern.
---
Conclude: Flowers are likened to the music of nature, each flower is a romantic music that brings sweet emotions. With the experience as well as the address to order flowers to celebrate the opening in Binh Thanh that we have shared, we hope that you have pocketed the right store for yourself.
MAYBE YOU ARE INTERESTED: