Top 5 Địa chỉ đặt vòng hoa tang lễ tại Quận 5 uy tín nhất (Cập nhật)
Funeral wreaths are an indispensable part of funerals, in order to express mourning and longing for the deceased, condolences to the family. Because of the importance that wreaths bring, you should refer to reputable and quality funeral wreaths.
Review of 5 professional, good quality funeral wreaths in District 5
Funerals are very important ceremonies. This is an opportunity for people to express their condolences to the deceased. One of the ways to express sincerity is to send a funeral wreath to the owner. Each tangerine wreath will have its own meaning, depending on the custom of each region or religion. Therefore, you should be careful in choosing funeral flowers.
Customers can refer to the addresses to order funeral wreaths below to choose the right flower product, both aesthetic and special meaning.
#01
Van Nam fresh flowers
With 6 years of experience in creating funeral wreaths, Van Nam fresh flowers are trusted and chosen by many people. Shop Van Nam is considered reliable, good service quality, beautiful flower products, delivered to customers within the required time.
Flower quality is what most consumers notice. The quality of flowers in Van Nam is good, 100% of which are fresh flower branches carefully selected from reputable farms with clear origins. Funeral flowers delivered to customers remain fresh for several days.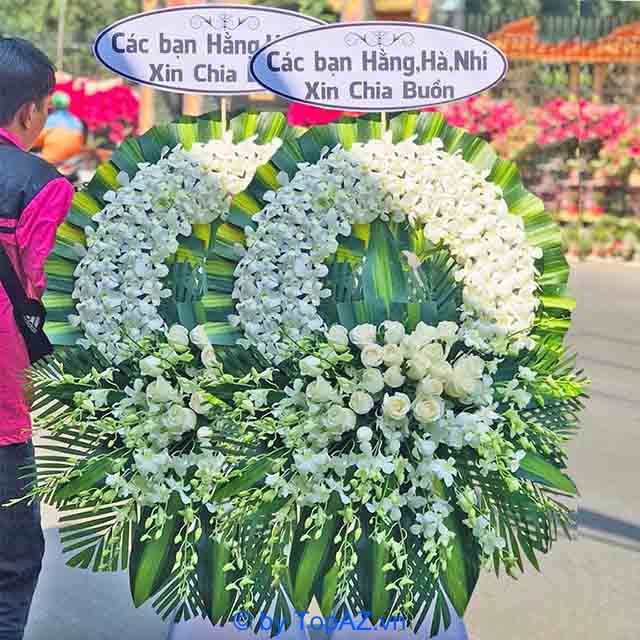 Van Nam fresh flowers own a variety of flowers for customers to choose from such as roses, chrysanthemums, peonies, lilies, … or any kind of flowers that customers need for the funeral. The fresh flowers are combined together, creating a beautiful, quiet funeral flower shelf.
Floral patterns are usually designed in a dominant color tone. At Van Nam fresh flowers, flower artisans often use white, purple, green, and yellow flower branches as the main color.
The process of ordering funeral wreaths at Van Nam is also very quick, saving time for customers. Consumers only need to spend a little time to choose the model and type of flower, then the florist will rely on the customer's request to perform. Customers can order wreaths online, no need to go to the store. Products will be delivered on time, to the right address, according to the model ordered.
A plus point for Van Nam fresh flowers is the stable price, with many prices for customers to choose from. Regardless of the price, the quality of flowers is still appreciated.
Contact information:
Address: 735 Nguyen Trai, Ward 11, District 5, Ho Chi Minh City
Phone number: 0348 453 928
Website: hoatuoivannam.com
Fanpage: FB .com/hoatuoivannam
#02
Fresh flowers Katy
Katy fresh flowers is a fresh flower shop in District 5 that is highly appreciated by many people for its prestige and professionalism. This place specializes in providing flowers in a variety of colors, types and designs. Each flower product exudes sophistication, ingenuity and aesthetics of the florist.
Katy fresh flowers are trusted and chosen by many people to order funeral wreaths in District 5. Flowers are of good quality, fresh, carefully selected from reputable farms in Da Lat. The process of maintaining flowers when transporting well, ensures that the flowers arrive at the store without being crushed or wilted.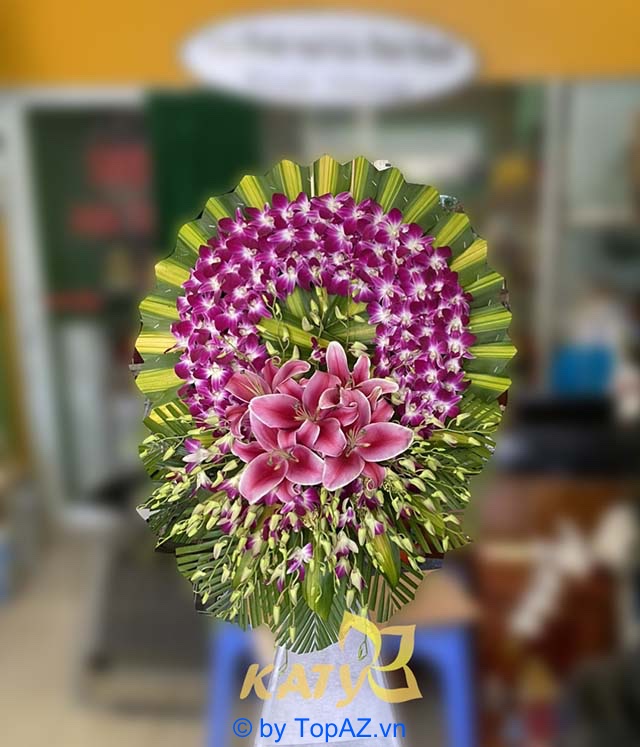 Funeral wreaths are designed in many styles. Each style has its own name, making it easier for customers to name: Peace, Heaven, Resting Place, Heavenly Autumn Realm, Peace, Sea of ​​Memory, Tranquility, Birds End in Heaven, Flowering Branches Parting , Dust, New Horizons, Peaceful Land… Each name contains a special meaning, to express condolences to the bereaved family, to show respect and mourning.
The address for the Katy funeral wreath is designed in the Catholic or Northern style, depending on the needs of the customer. Each wreath has a different price depending on the type of flower, design, and size.
At Katy, there is an express flower delivery service in just 30 minutes. If you are in need of a funeral wreath urgently, Katy is the right choice. In addition, the consultants at Katy are all very enthusiastic, have extensive knowledge about flowers, flower designs to help customers choose the flower model they like.
Product warranty policy, information security are also valued by Katy fresh flowers. This place is committed to returning products if delivered wrong model, wrong flower, missing flower … All customer order information is also kept confidential, not disclosed to the outside.
Contact information:
Address: 671 Tran Hung Dao, Ward 1, District 5, City. Ho Chi Minh
Phone number: 097 320 0793
Website: hoatuoikaty.com
Fanpage: FB. com/katyhoatuoi
#03
Fresh flowers Huynh Long
Huynh Long fresh flower shop is a familiar address for many people when ordering funeral wreaths in District 5. With his experience and professionalism, Huynh Long is increasingly developing and standing firmly in the field of flower business.
The appearance of condolence wreaths at funerals has been familiar for many years now. This is a mourning, expressing respect and love for the deceased. In order to meet the needs of customers, Huynh Long Fresh Flowers has developed a service to order funeral wreaths.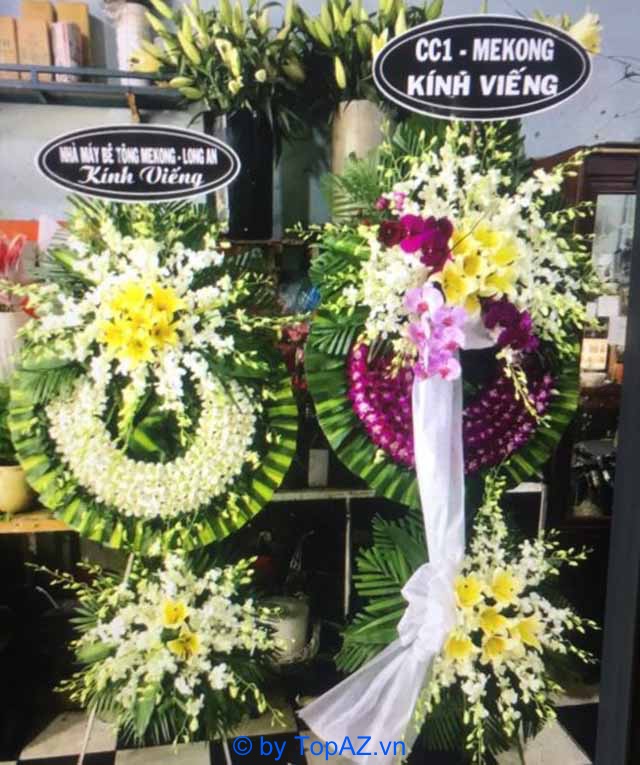 On the website of Huynh Long fresh flower shop, there are a variety of flower patterns for customers to choose from. Depending on the flower theme and the price offered by the customer, Huynh Long will provide a number of eye-catching and suitable designs. The designs of the wreath are set by Huynh Long by number, making it easy for customers to call their names when ordering.
Huynh Long fresh flowers import flowers from stable sources, in addition to popular flowers, there are also lavender, blue chrysanthemums, orange roses, baby flowers, etc. The variety of flowers makes customers comfortable. selective.
Huynh Long fresh flowers are committed to returning flower products when they are not in accordance with the pre-ordered requirements. Flowers delivered to customers still retain their designs, are not stamped, not crushed due to the transportation process.
Contact information:
Address: 875/24 Tran Hung Dao, Ward 1, District 5, City. Ho Chi Minh
Phone number: 0938 505 018
Email: longhuynh2506@gmail.com
Website: hoatuoigiaresaigon.com
#04
Flowers Shop
In addition to being used during holidays, fresh flowers also appear in funerals, implying condolences to the family, mourning the deceased. If you are wondering how to choose the address to order funeral wreaths in District 5, Flowers Shop is a good choice.
Flowers Shop owns a team of skilled staff, skilled flower artisans, skillful in flower arrangement, with aesthetic eyes, designing beautiful and impressive flower patterns. Florists are all experienced people, ensuring flower products are completed on schedule.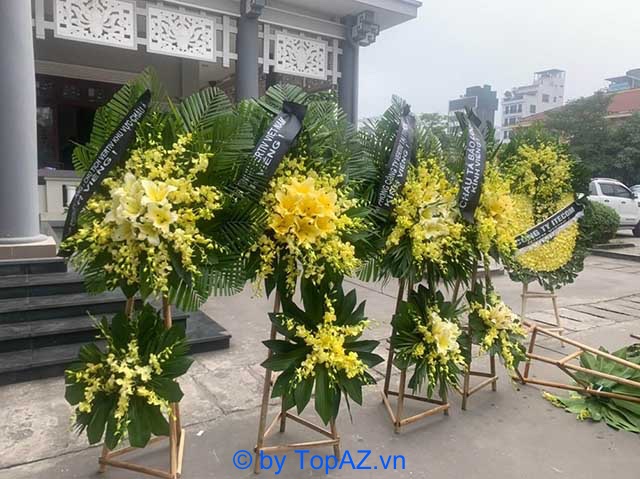 Flowers Shop always puts customer satisfaction first, taking it as a goal for development. Therefore, the service of the shop is always highly appreciated by customers, professionalism, fast and effective handling of situations makes customers trust.
Flowers Shop ensures funeral wreaths are delivered on time, according to customer requirements. If the customer receives the wrong flower sample, the flower shop will take all responsibility, proceed to change another product in accordance with the requirements.
The price of funeral wreaths at Flowers Shop is from 600,000 VND to 3,000,000 VND. Prices vary depending on factors such as: type of flower, style, size of wreath. At the shop, there are 299 samples of funeral wreaths, customers can visit the store's website to learn and refer.
Under the trust and support of customers, Flower constantly improves services, upgrades the flower ordering process, bringing convenience and professionalism to customers.
Contact information:
Address: 86 Tan Da, Ward 11, District 5, City. Ho Chi Minh
Phone number: 0937 878 ​​738
Email: hoatuoitructuyen24h@gmail.com
Website: flowershop.com.vn
Fanpage: com/flowershop.com.vn
#05
Vietnamese fresh flowers
Dat Viet fresh flowers is one of the famous flower shops in District 5, Ho Chi Minh City. This place specializes in providing themed flowers such as birthday flowers, wedding flowers, opening flowers, love flowers, event flowers, Tet flowers, funeral wreaths…
Unlike other themes, wreaths used in funerals need to be more thoughtful and careful. Flowers are required to be true to traditional customs, showing sophistication, courtesy and meaning. Funeral wreaths express affection and nostalgia for the deceased.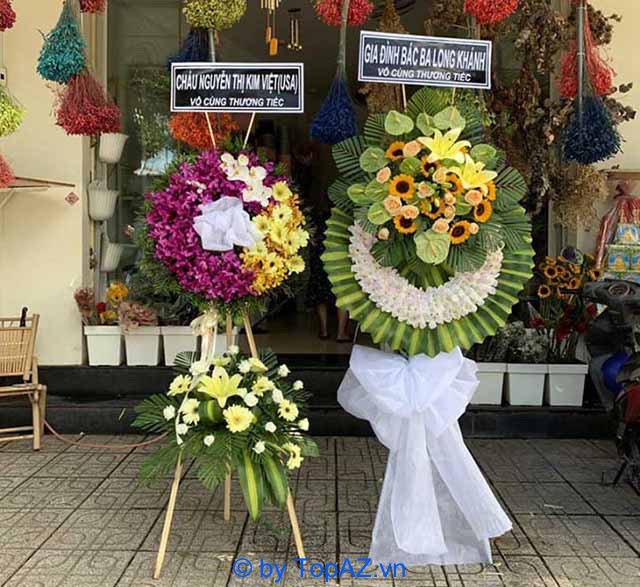 If you do not know which flower to choose, you can ask for the help of a consultant. Enthusiasm and understanding of the flower field will help customers choose the right flower model.
Vietnamese fresh flowers have a variety of flower patterns such as: Pure Land, Thien Thu funeral flower shelf, Remembering love, Returning to the light, Tranquility, Impermanence, Stepping through the world, Sincere condolences, Eternity, Islam … Each name, each type of flower has its own meaning.
Dat Viet fresh flowers receive delivery in District 5 and neighboring districts such as District 1, District 3, District 10 … freeship. This place ensures that the wreath delivered to the customer retains its original appearance, unaffected during the move.
Before delivery, the shop will send pictures to the customer, committing to the form posted on the website and according to the requirements. In addition, Dat Viet fresh flower shop also has an electric flower service, bringing convenience to customers. Various forms of payment, depending on whether customers choose to transfer or pay cash when receiving flowers.
Contact information:
Address: Nguyen Bieu, District 5, City. Ho Chi Minh
Phone number: 0316690342
Website: hoatuoidatviet.vn
Criteria for choosing a quality and prestigious funeral wreath address in District 5
It is not difficult to find an address to order funeral wreaths in District 5, Ho Chi Minh City. However, funeral flowers must ensure aesthetic and meaningful elements to the owner, condolences and mourning for the deceased.
To choose a place to place a quality and reputable funeral wreath, you need to pay attention to the following criteria:
Geographical location: Funeral wreaths often have a rather bulky design, easily impacted during movement. Therefore, you can choose flower shops close to the funeral address to ensure that the delivered flower products remain intact as they were, not crushed. Choosing a store that is too far away will take a lot of time to move, and it will be difficult to transport flowers.
Flower quality: The aesthetic factor is an extremely important requirement. You should choose a store with good quality flowers, flowers keep fresh for at least 3 days. You can go to the store to see the flowers in person instead of ordering online.
Enthusiastic consultant: Funeral wreaths require more than other flowers. Each flower design has a separate meaning, instead of your words to the deceased and their family. If you don't know too much about funeral wreaths, you should consult a counselor. A reliable shop will have enthusiastic consultants, giving useful advice to customers in choosing flower products.
Experienced florists: Florists with many years of experience, skillful workmanship, and good aesthetic eyes will create eye-catching, delicate flower products that impress the viewer.
Explicit costs: The cost of a funeral wreath is not cheap. Depending on the style, size, and type of flower, the price will vary. Customers should choose shops that publicize the price with flower samples on the website or when consulting to easily choose a "budget" wreath.
---
Conclude: Placing a funeral wreath is a very important thing, doing it wrong can be embarrassing for you and your family. Please refer to the 5 prestigious and quality places to order funeral wreaths in District 5 that TopAZ Review has compiled.
MAYBE YOU ARE INTERESTED: