Top 5 Địa chỉ sửa chữa máy tính, Laptop tại Quận 3 uy tín nhất (Cập nhật)
Currently, there are many computer and laptop repair services in District 3 with different quality and prices. In addition to good services, there are also many addresses that take advantage of customers' trust to redeem and exchange components. Therefore, you can refer to the addresses that TopAZ Review will introduce through the article below.
Review of 5 reputable computer and laptop repair addresses in District 3, Ho Chi Minh City
District 3 is one of the central districts of Ho Chi Minh City, where many people come and go, also where many corporate offices are concentrated. With the need to use computers today, the damage to the machine will directly affect your work. So if you are looking for a reputable and professional computer and laptop repair address in District 3, you can refer to the following companies.
#01
Phong Vu
If you are looking for a reputable computer repair brand, with a famous brand, many branches throughout Ho Chi Minh City, then you can bring your computer to Phong Vu. Known as a brand specializing in providing reputable and genuine electronic equipment, Phong Vu is also the address that many technology believers trust and choose when repairing their computers.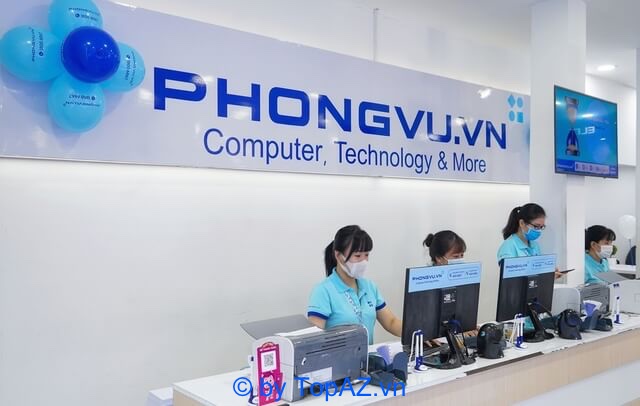 As a professional system, the company's staff is also focused on training. Most of Phong Vu's employees are highly specialized in technology, trained and periodically updated with new knowledge. Along with the attitude is the attitude of the staff is quite enthusiastic and welcoming.
Regarding the service of repairing desktop computers and laptops in District 3, the company receives errors such as computers not turning on, hanging, slow booting, system errors, not connecting to the internet, … Support installation win , graphic software, office software, anti-virus software, etc. As well as receiving recovery of lost data, replacing components, …
When repairing machines at Phong Vu, you can be completely assured because the company guarantees to only use and replace genuine, 100% new, original components. You will also get to observe employees at work. As a big brand, the repair service is reasonably priced and competitive.
Besides, Phong Vu is also an address specializing in selling electronic products such as computers, phones, cameras, audio equipment, genuine office equipment, diverse types trusted by many customers.
Contact Info:
Address: 371/20 Hai Ba Trung, Vo Thi Sau Ward, District 3, Ho Chi Minh City
Phone: 1800 6865
Email: cskh@phongvu.vn
Website: Phongvu.vn
#02
MrLaptop
This is also a brand that owns a chain of professional computer repair shops. MrLaptop, besides providing repair services for all kinds of computers, also accepts to buy and sell old, used but still good equipment and computers for customers in need.
Considered as an expert in hardware supply and repair for computers, MrLaptop can assist in fixing almost any problem related to repairing damaged computers.
The staff has a quite enthusiastic attitude, with high expertise, so the problem can be detected quickly. Technicians are professional, well-trained to support customers as quickly as possible.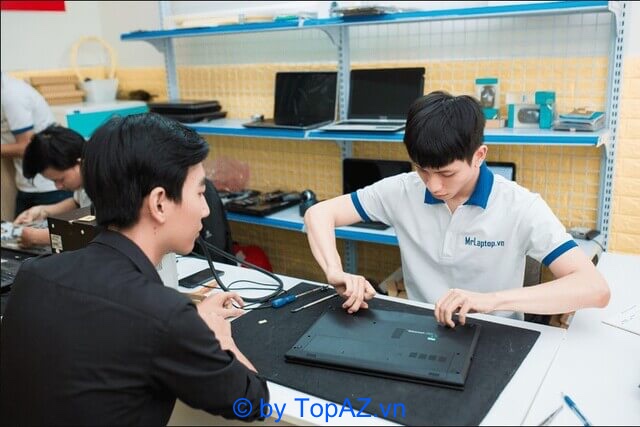 The company is committed to using only quality and genuine components, so you can be assured of the quality of service. In addition, MrLaptop also has a long-term warranty policy, so if you have a problem after fixing it, you can bring it back to be checked and guaranteed by the staff.
When you come to repair here, you do not need to worry about the situation of "boiling" because your computer is repaired openly and transparently, you can easily observe the repair staff.
Contact Info:
Address: 514 Cach Mang Thang 8, Ward 11, District 3, Ho Chi Minh City
Phone: 0968.450.450
Website: mrlaptop.vn
#03
Doctor Laptop
Owning a team of professionally trained technical staff, consultants, Doctor Laptop is the next laptop repair address in District 3 that we would like to suggest. When coming here, the attitude of the staff is quite dedicated and enthusiastic.
This is also a unit with many years of experience in the field of computer repair. Good service quality, fast repair time, you can get it immediately if the error is small. This is also the advantage of Doctor Laptop because the company has storage so it will limit the waiting time as much as possible. Components used are genuine, quality assurance.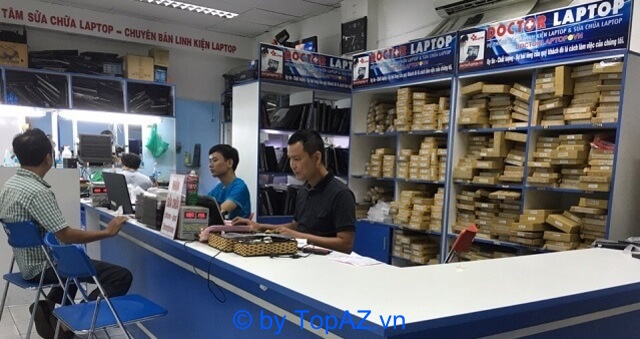 The company's warranty is also quite good, if the component is faulty by the manufacturer, but your computer is still in the warranty and maintenance period, you can rest assured because they will do 1 to 1 exchange. for you.
Invest in equipment and machinery to support the repair and warranty of computer equipment. The service implementation process is also open and transparent, you can witness the entire process from dismantling to repair. All components will be signed to ensure your computer is not replaced with undamaged parts.
After checking the machine, the staff "diagnoses the disease", advises solutions and gives you a quote. The company provides a commitment to report the disease and quote the correct price for the condition of the machine. Commit not to exaggerate to force customers to correct.
Contact Info:
Address: 179 Cach Mang Thang 8, Ward 5, District 3, Ho Chi Minh City
Phone: 0908.251.500 VND
Website: drlaptop.vn
#04
Original Computer
This is a pretty famous laptop repair address in District 3. The brand also has many stores spread across Ho Chi Minh City, which are highly appreciated by many customers for its quality and price.
Original Computer receives repair of all machine damage, especially home repair service, creating the best convenience for customers.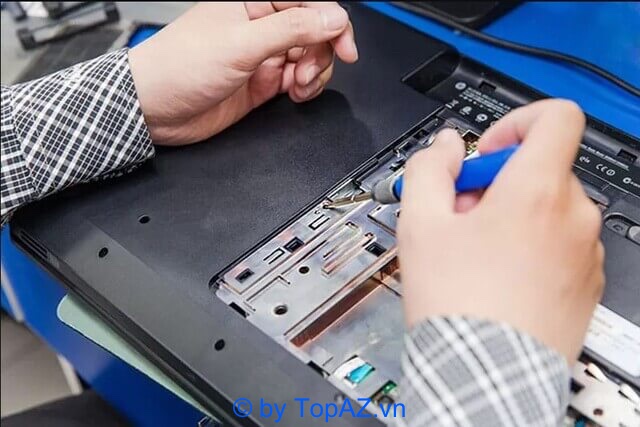 Time to carry out repairs, quick fixes thanks to a team of professional, experienced and well-trained staff. Friendly and enthusiastic attitude towards customers. The warranty period for the machine after repair is also quite long, from 3 to 12 months depending on the type of machine.
After checking the machine, the customer will quote a price before doing it, the customer agrees to quote the new price to proceed. Committed to using only quality, genuine parts. After replacing the parts, the damaged equipment will be returned to the customer. Finally, clean the machine before handing it over to the customer.
Will issue VAT invoices, receipts, payments, clear invoices for customers who are individuals and businesses at the request. Usually the staff will ask you about this problem, if they forget, you can also actively tell the staff to issue an invoice for you.
Contact Info:
Address: 18/36 Tran Quang Dieu, Ward 14, District 3, Ho Chi Minh City
Phone: 0975160660
Email: vitinhnguyenban@gmail.com
Website: sualaptopchuyennghiep.net
#05
Soviet Service Company Limited
This is a laptop repair address in Ho Chi Minh City that is known by many people, so you will probably have to wait a while for the staff to fix it. But when the staff receives the machine, the process from receiving, consulting, checking and repairing will be done quickly and professionally.
After checking, if the computer error is too complicated, the technician needs more time, up to 1 week. If the customer does not want to repair anymore after the quotation, Soviet Service will return the computer product to the original state when the customer brings the computer.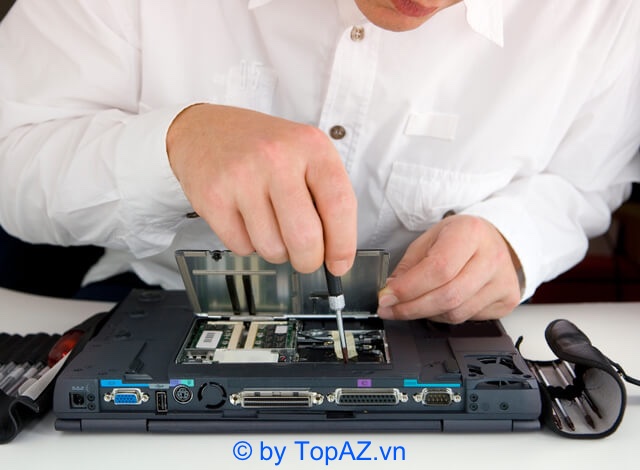 About the staff here are professional attitude, professional and well-trained. In addition, if you do not have free time to bring your computer to the store, the company also offers on-site repair service. The company will try to fix it as quickly as possible so that the customer can resume work.
The company is also committed to safe computer repair and data security for customers. Soviet Service's computer repair costs are also reasonable and affordable.
Contact Info:
Address: 18/36 Tran Quang Dieu, Ward 14, District 3, Ho Chi Minh City
Phone: 0938930755
Email: vitinhxoviet@gmail.com
Website: vienmaytinhxoviet.com
Criteria to help evaluate stores, computer and laptop repair facilities
In addition to the above desktop and laptop repair addresses in District 3, if you want to go to an address, you can evaluate the quality and reputation through criteria such as:
Infrastructure: You can go directly to the store to evaluate their facilities. Reputable addresses need to have full equipment and components to repair computers in the best way for their customers.
Warranty: After repairing the machine, the next issue to consider is the warranty policy. There are many cases where the machine at the store works fine, but when you bring it home, there is a problem. Therefore, warranty policies are needed to ensure the best interests of customers.
Reviews from past customers: Currently there are many different information sharing platforms, the most popular are groups on social networks, or forums, forums on the internet, .. You can search for the name of the store you intend to go to. these groups, or just search on google. If the store has too many "seals", then you should definitely look for another computer repair shop.
How to quote: Normally, the staff will briefly check the condition of the machine, then inform the customer of the repair method and cost. If the customer agrees to close, the repair will begin. If not, it is necessary to assemble and return the machine to the customer in its original condition. If there are stores that do not follow this process, you also need to consider your options.
Provide all relevant documents: This is especially important, especially when you bring the company's machine, the office to repair. Please ask the repair staff about the relevant documents before repairing to get an invoice to report, avoiding trouble later.
Service prices: Be careful with reputable services with extremely cheap prices, much lower than the market. Because this can also be a trap. Compare market prices to choose the right facility.
Some notes when repairing computers and laptops in District 3
There are many problems when we bring our computers and laptops to repair such as poor information security, information disclosure, replacement of components, incorrect error correction, incomplete repair, loss of document files, etc. So, besides choosing a reputable address, when you bring your computer or laptop to repair, you also need to note the following things:
Take a picture of the machine's condition: This is a way to help you easily know if your components have been replaced or not. Or you can also sign the components before you decide to leave them for the repair shop and you can't sit and see them in person.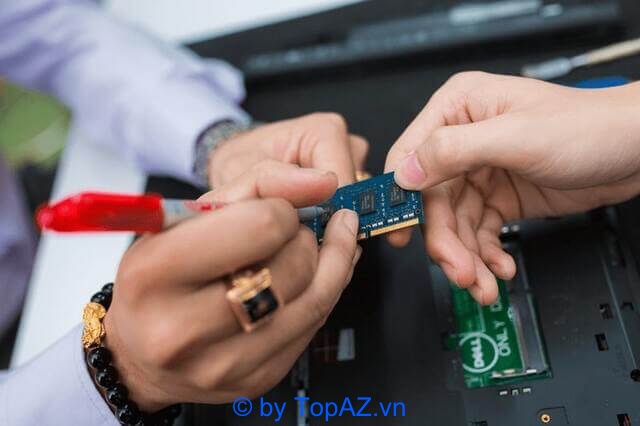 Document backup: During the repair process, you may lose some files due to reformatting the device or due to some error. Therefore, you should copy important data to a USB, or upload to Drive, etc. To store documents.
Sign out of accounts: Currently accounts such as social networks, gmail, … will store a lot of important personal information. It would be really bad if someone took advantage of the vulnerability and stole your data. So to protect your information, please log out before taking the device to repair. If the device suddenly shuts down, you can use your phone to log out of your account from all devices.
Store warranty papers: Staff will rely on the information on the warranty paper to guarantee the machine after repairing for you. So, remember to keep them carefully.
---
Conclude: Choosing a reputable and professional computer and laptop repair address in District 3 will directly affect the future durability of the computer. Hope the above article will help you have useful information for you to choose the right address. If you still have questions, please contact them directly to get more detailed advice from their staff.
MAYBE YOU ARE INTERESTED: