Top 5 Địa chỉ sửa máy tính, Laptop tại H. Nhà Bè giá rẻ, uy tín (Cập nhật)
If you are living in Nha Be district and are looking for an address to repair your computer, then here, TopAZ Review will introduce to you the professional and reputable computer and laptop repair services in Nha Be. With affordable prices you can refer and choose.
Review of 5 reputable computer and laptop repair addresses in Nha Be, Ho Chi Minh City
Nha Be District is a suburban district of Ho Chi Minh City. Many people think that if you want to fix your computer professionally, you need to bring it to the city center to have a reputable and quality repair center. But not necessarily, if you are afraid to go far, you can refer to the addresses of computer and laptop repair in Nha Be that TopAZ Review will introduce to you below.
#01
Dolozi
This is a company specializing in providing fast and on-site computer and laptop repair services for customers in need. Established in 2011, this brand has many years of repair experience in the market, receiving a variety of errors and a variety of models.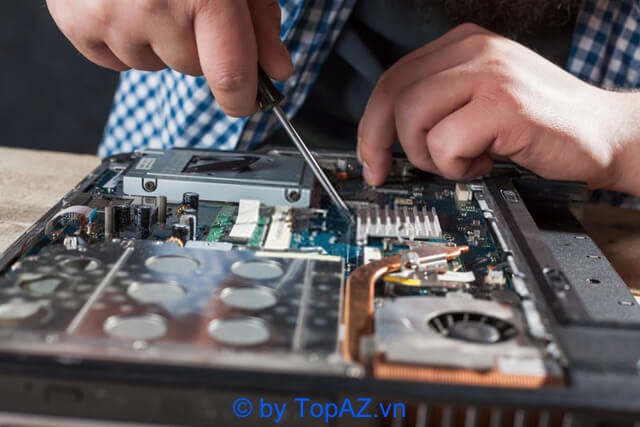 If your computer is faulty and needs to be replaced, the technical staff will exchange directly and commit to using genuine parts on behalf of the customer. Commit not to swap or boil items in the client.
Our team of highly qualified and experienced staff makes the computer repair process quick and easy. Work attitude with enthusiasm, dedication and sense of responsibility in work.
The repair costs here are quite affordable, clearly posted publicly, before the repair staff also notify in advance so that customers can decide. Committed to absolute confidentiality of information for customers, not letting the situation of information and customer data be leaked.
Contact information:
Address: 41 Dao Tong Nguyen, Phu Xuan Commune, Nha Be District
Phone number: 0862.043.247
Email: Tinhocdolozi@gmail.com
Website: https://itdolozi.com
Fanpage: facebook.com/congtysuamaytinhtainha
#02
Hoang Tho Computer
Hoang Tho Computer is a computer repair address trusted and chosen by many customers in Nha Be. Here they provide home computer and laptop repair services for guests in Nha Be. You do not need to take the computer to the shop, but a staff member will come to repair it. A team of technicians will be available within 30 to 40 minutes from receiving the request. If there is a more serious error, they will suggest bringing it back to the shop for a more thorough inspection.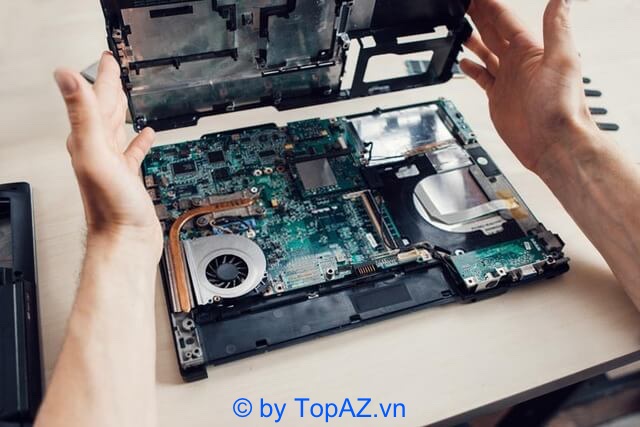 Here you can also rest assured to hand over the machine to them because Hoang Tho Computer is committed not to use poor quality components on behalf of customers. The staff here have good expertise, so they are quite standard in catching the disease, working in a friendly, enthusiastic manner, and doing their best to support customers.
The working process here is also clear and scientific. After receiving the repair request, the staff will inspect the machine in front of the customer. Then offer solutions, solutions to customers. If the customer agrees, then proceed with the repair.
After the repair is completed, the staff will also check the computer with the customer again before you pay them. The company will also issue an invoice, clear transparency in the issue of prices and costs.
Contact information:
Address: 21/7F Hamlet 4, Phu Xuan Commune, Nha Be District
Phone number: 0901 261 248
Email: hoangthovn365@gmail.com
Website: https://hoangtho.vn/
Fanpage: facebook.com/hoangthovn365/
#03
IT technician
This is a reputable home computer repair unit trusted by many customers. With many branches, the repair station will assist the technician to get to the guest house as quickly as possible. A team of well-trained and fully qualified staff will assist customers in fixing and repairing computers in the most efficient and fastest way.
Repair costs here are also reasonable. Technical staff will publicize the repair price before carrying out the repair to ensure transparency and clarity with customers.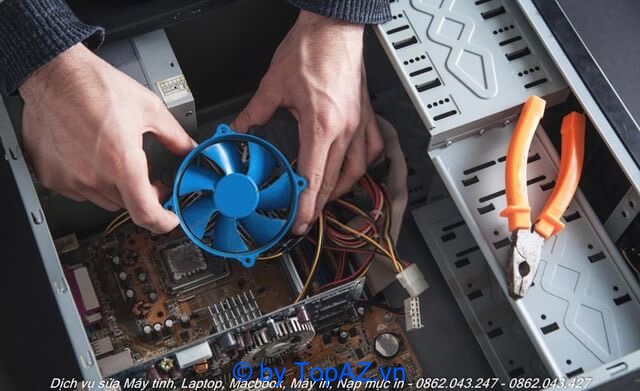 Commitment to the security of documents, data, as well as customer's components will be carefully protected by the unit, there is no situation of swapping or stealing components in the customer's machine. If a new component must be replaced, it will also be specifically notified to the customer. If the customer agrees, the goods will be replaced and repaired.
IT Specialists are also trusted and appreciated by many customers thanks to their professionalism and reputation for many years. After the repair is complete, the staff will also write an invoice, receipt and warranty card for you. Keep the warranty card if during the period of use it has an old error, you can contact to fix it, they will support it quickly.
Contact information:
Address: 278 Nguyen Binh, Phu Xuan Commune, Nha Be District
Phone number: 0939697063
Email: vinacomputervi@gmail.com
Website: https://chuyenvienit.com/
Fanpage: facebook.com/chuyenviencentt
#04
MiT
Born in 2012, this is a unit specializing in repairing computers and laptops in Nha Be, chosen by many customers.
A team of professional and skilled staff combined with the equipment and repair machinery invested and equipped by the company has created a fast and effective computer repair service. Employees work with enthusiasm and dedication.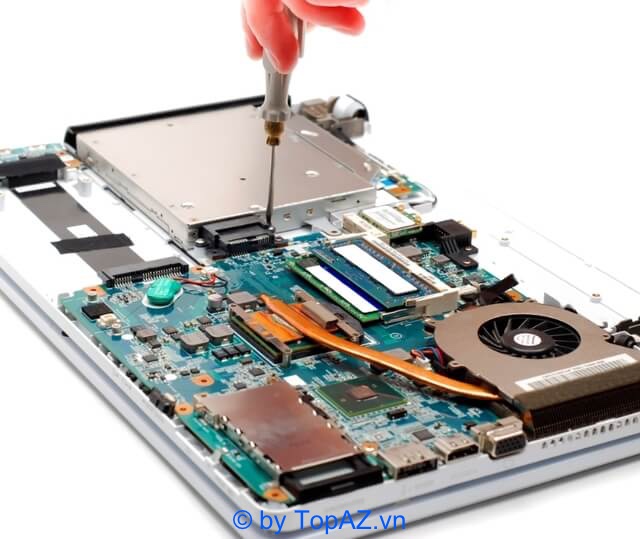 At the company, there are many spare parts ready to change and repair for customers. Committed to using only genuine equipment and components for customers to use with peace of mind.
Efficient and professional workflow. You will be able to directly watch the staff repair and manipulate, so that the components in the machine are changed or exchanged. In addition, MiT will ask customers to sign components, check the machine after receiving, to ensure the repair service is completed in the best way.
In addition to repair, the company also receives periodic maintenance for computers, provides office electronic equipment that is trusted and selected by many businesses and companies. The cost here is also publicly and transparently disclosed by the company, the repair price is competitive, there is no situation of drawing more "diseases" to inflate the price.
Contact information:
Address: Hiep Phuoc Industrial Park, Nha Be District
Phone number: 0909.156.177
Email: minh.nt@mitgroupvn.com
Website: https://mitgroup.vn/
Fanpage: facebook.com/mitgroupvn
#05
Assurance
An Tam is a repair unit with many branches spread throughout Ho Chi Minh City and An Tam's computer and laptop repair service in Nha Be has also received a lot of good feedback from customers.
Technical staff with expertise, high professionalism, always ready to support customers enthusiastically. They are also ready to support free remote repair advice for guests. Providing home repair services for customers in need, creating convenience, as well as saving travel time for customers.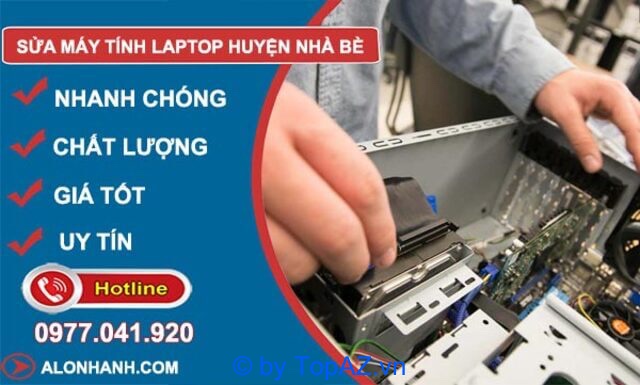 After receiving the request, the staff will be at your home within 30 minutes. When repairing, the staff will quote you a price in advance and you can directly observe the repair process of the staff.
The price of repair services and parts at An Tam is also very competitive in the market, this unit always updates the latest prices so that customers can grasp and consider their options. There are also warranty policies after repair for you to use with peace of mind. After the repair, the staff will also prompt you to check the machine again to make sure the error has been completely fixed before completing the payment.
Contact information:
Address: 77A Hamlet 4, Phuoc Kien Commune, Nha Be District
Phone number: 0903078143
Website: https://alonhanh.com/
Some risks may occur when taking the computer for repair
Currently, many customers feel nervous when taking their computer to repair because this is a high-value device as well as storing a lot of important information. Some of the risks you may encounter if you repair your computer at an unreliable address can include:
Correcting incorrect errors: This problem can completely happen if the repairman is a less professional person, or deliberately misjudges to get a higher repair cost. For example, if the RAM has a problem, they can say that it is damaged CPU, mainboard, etc. And instead at a very high cost.
Damaged some other parts: This risk may occur intentionally or unintentionally. Many mechanics intentionally damage other parts so that you spend more money to fix. Or if they do not work carefully, they will accidentally scratch and damage other parts, costing you more.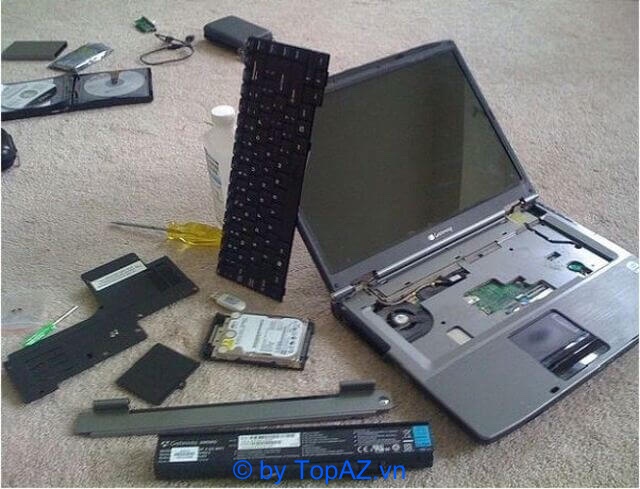 Being "boiled": This is the heaviest and most damaging risk you can face. The mechanic will replace your genuine parts with inferior quality parts. The parts that are often boiled can be mentioned as CPU, RAM, screen, battery, keyboard, etc.
Loss of data, information: During the repair process, data may be lost due to reformatting or reinstalling windows. In addition, many scam repairmen can steal your personal information. Therefore, before taking the computer to repair, please log out of all accounts, back up important documents, do not leave important and sensitive images in the machine.
Lost accessories: Many people carry accessories such as charging cords and mice, but unfortunately, the center loses these devices. Therefore, you need to ask carefully about whether you need to leave it and if you leave it and lose it, they will solve any problems.
To avoid the above risks, it is best to choose a reputable computer and laptop repair unit in Nha Be, staff with many years of experience, with a clear, long-term warranty policy. , there are specific commitments on quality assurance for the machine after repair.
Factors that make computer and laptop repair services in Nha Be prestigious and quality
In addition to the locations mentioned above, you can rely on the following factors to be able to choose a reputable and quality computer and laptop repair place in Nha Be.
Good quality reviews by many old customers: You can refer to the reviews of old customers to know their experiences through forums, groups on Google, Facebook, TikTok, etc.
Many years of experience: The more experienced the facility, the better the repair ability, they can correctly diagnose the disease, have more credibility, limit fraudulent situations because if they do not do well, they will not be able to stay on the market for a long time. market is.
Professional qualifications and responsibility to customers: The expertise of the technician team plays a very important role, their sense of responsibility with the computer is also very important. You can easily see this through their advice.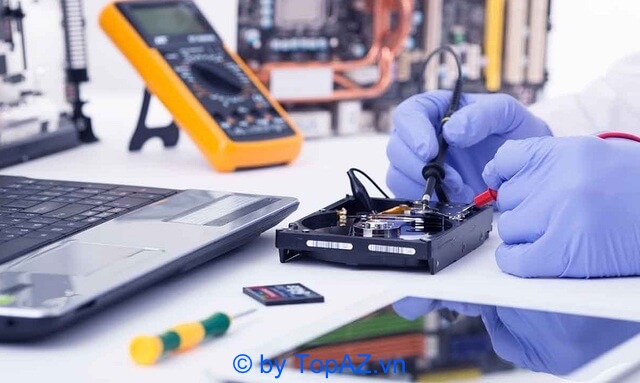 Warranty: Need to choose units with clear, long-term policies and warranties, this is the best way to protect your interests. In addition, the warranty is also a way for you to avoid the cases where the mechanic uses poor quality components or does not completely fix the error.
Time and cost of computer repair: These factors need to be public and transparent. Expenses should be publicly listed. Repair times should be quick so you can get back to work as quickly as possible.
Repair facilities and equipment: Currently, computers are becoming more and more complex, so repair units also need to upgrade in time to match the repair needs of customers.
---
Conclude: Currently, there are also many reputable and quality computer and laptop repair facilities in Nha Be, you don't have to look for a faraway address. Hopefully through the above article you have more useful information to find a reputable and suitable computer repair address.
MAYBE YOU ARE INTERESTED: