Top 5 Địa chỉ sửa máy tính, Laptop tại Quận 2 giá rẻ, uy tín (Cập nhật)
Nowadays, computers and laptops are the most used devices. Accordingly, computer maintenance and repair centers are also gradually popular. Besides the centers that provide good service, there are also many addresses that take advantage of the trust of customers to make profits. To avoid being "lost money", you can refer to the Top 5 cheap and reputable computer repair addresses in District 2 that TopAZ Review has summarized below to be able to choose the right place, rest assured. Take the device to repair.
Review of the top 5 cheap and reputable computer and laptop repair addresses in District 2, Ho Chi Minh City
Here are the top 5 computer repair addresses in District 2 professional, reputable and reasonable prices for your reference when choosing when your computer or laptop has problems.
#01
NTT Computer
NTT Computer is a reputable computer repair address in District 2 that you can refer to. Owning a team of technical staff and consultants with experience and expertise, NTT Computer will bring customers the best service experience.
NTT Computer provides repair services for all kinds of computer problems from simple to complex. The unit owns a team of very professional and skilled technicians to accurately capture errors and perform repairs. Fast repair time, good service quality, can be taken immediately if the error is small and signed to protect components if repaired over the day.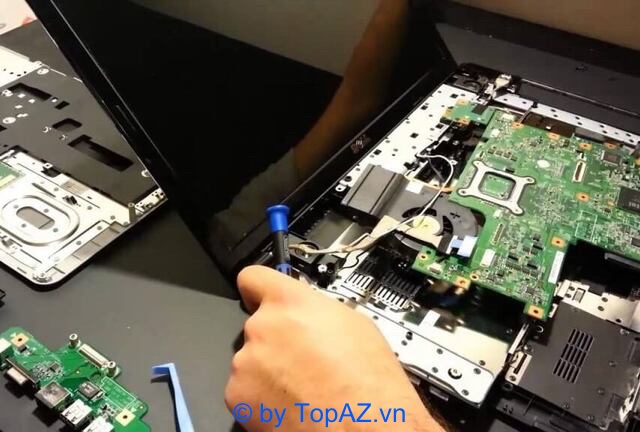 NTT Computer is committed to providing genuine parts, quality assurance and a long warranty period. The repair process as well as the quotation are open and transparent, customers can witness the entire milking process. Thereby ensuring that there is no swapping of components.
Contact information:
Address: 506 Nguyen Thi Dinh, Thanh My Loi Ward, District 2
Phone: 0918 023 006
Website: nttcomputer.com
#02
Hoang Tien Computer
This is a famous computer repair address in District 2. Hoang Tien Computer specializes in repairing laptops of laptops such as Sony, Hp, Lenovo, Dell, Asus, Acer, Samsung, etc. Handling errors such as power failure, laptop not charging battery, striped screen, … Get replacement parts Genuine laptop accessories with long-term warranty policy, 1 for 1 exchange.
Hoang Tien Computer is always committed to providing customers with the best quality service. With a team of highly trained and experienced technicians and consultants, they will quickly identify the machine fault and carry out the correct repair process. The staff will quote a specific price before starting the repair and do not incur any additional costs.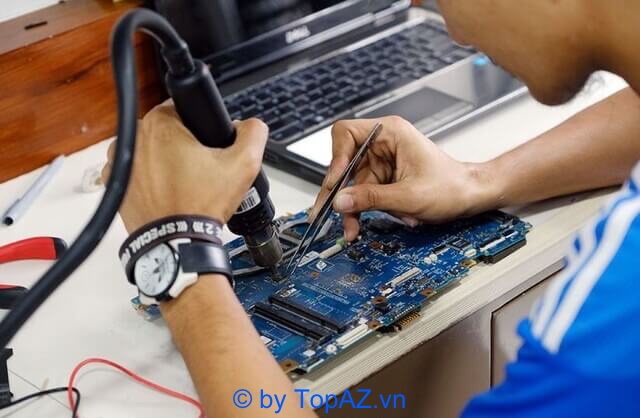 In case the machine has minor errors, you can contact the Hotline number of this unit. Staff will enthusiastically advise without asking guests to pay fees. All parts used to repair the machine are guaranteed quality with good price. For loyal customers, there will be many more attractive incentives.
Here, the center regularly cultivates knowledge, updates new equipment and increases the quality of personnel to constantly improve technical expertise and better service quality. Hoang Tien Computer serves customers 24/24 in all districts in Ho Chi Minh City and surrounding areas. Anytime your computer or laptop has problems, you can contact this unit for the fastest support.
Contact information:
Address: 7 Le Van Thinh Street, Binh Trung Dong Ward, District 2
Phone: 0918 894 363
Website: hoangtiencomputer.com
#03
Dai Loi Laptop
Dai Loi Laptop is also one of the names in the top addresses of providing cheap and reputable computer repair services in District 2. With years of accumulated experience and well-trained and professional staff. When you come here, you will be dedicated to enthusiastic advice, answering questions clearly.
The working process is in accordance with the process, professional, full of steps such as: receiving customer information about the machine's status, checking to identify errors, providing solutions to overcome, making quotation and repairing. hand over the machine to the customer.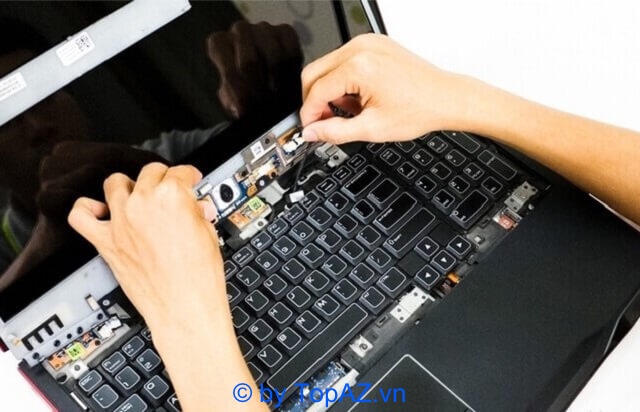 In order to ensure transparency, Dai Loi Laptop will make full quotation, sign components, receipts, clear appointment papers. At the same time, customers will be able to observe the entire repair process by technical staff.
In addition, Dai Loi Laptop regularly has promotions for customers when they come to repair computers and laptops. Lifetime warranty and maintenance. When you come here, you will surely be satisfied with the quality of service provided by this unit.
Contact information:
Address: 658 Nguyen Thi Dinh, Thanh My Loi Ward, District 2
Phone: 0902 771 567
Website: laptopdailoi.com
#04
Dilu Computer
Dilu Computer is a reputable address where you can safely send your computer or laptop when it has problems. This is a reputable, cheap computer repair center in District 2. This unit owns a technical team with expertise, experience, enthusiasm, honesty and customer friendliness.
When coming to Dilu Computer, your device will be examined and treated quickly. Can repair all kinds of machine errors and thoroughly handle damage errors. The process and working principles are standard and professional. The technicians are experienced, highly specialized and well-trained.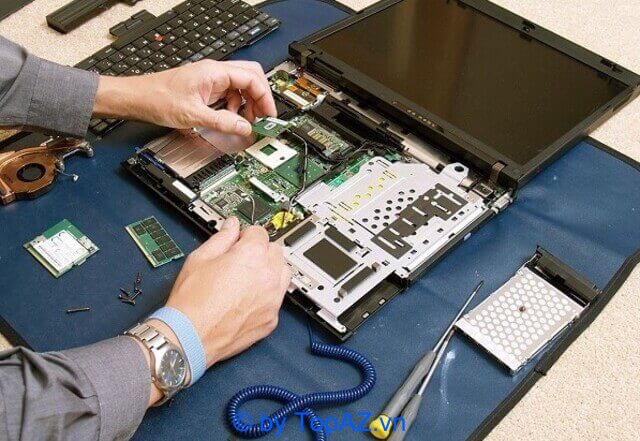 This unit is always committed to providing and replacing 100% genuine parts. All have a full warranty policy for customers to rest assured after the repair. Customers can request to monitor the working process, without worrying about exchanging components. The repair fee here is also reasonably assessed, and the quotation is transparent and clear. There are promotional policies for loyal customers.
In particular, the unit supports on-site repair services at home. Or if the machine has minor errors, the staff will guide customers to fix those errors by themselves so as not to waste travel time and costs. Dilu Computer is committed to always listening, constantly improving and improving service quality to give customers the best experience.
Contact information:
Address: 34A Street No. 1, An Phu Ward, District 2
Hotline: 0925 325 688
Website: dilunow.com
Facebook: FB.com/Dilucomputer
#05
Repair Pro
The last name that appears in the list of reputable computer repair addresses in District 2 is Computer Repair Pro. With many years of operation in the field of repair, this unit has affirmed its position, becoming a place trusted by many customers to repair machines.
The strength of Computer Repair Pro is to support repair directly at home. Customers just need to contact, the center will send technical staff to the place to check the machine. Once the fault has been identified, a clear quotation will be made, the customer agrees, and the machine will be repaired immediately.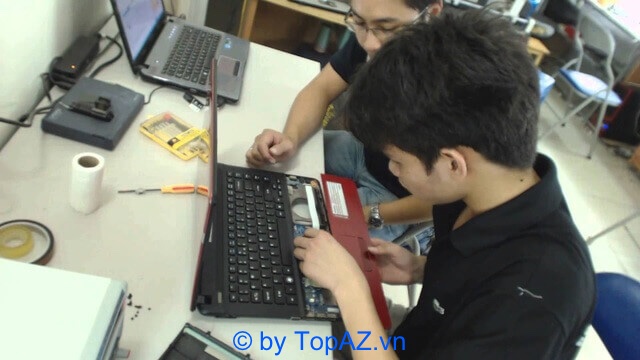 The process of repairing computers and laptops is carried out according to standards. Guests will be able to observe the entire repair process. Once completed, the staff will conduct a thorough re-test. Ensure that the error is completely resolved before returning the machine to the customer.
With qualified and experienced technical staff, the supporting machines are all very advanced, the components are 100% genuine. Pro computer repair is committed to always putting the interests of customers and service quality first. In addition, here the warranty policy, after-sales mode are fully available.
Contact information:
Address: No. 1, 63 Street, Binh Trung Dong Ward, District 2
Hotline: 0963.72.41.61
Email: hotro@suamaytinh.pro
Website: suamaytinh.pro
Criteria for evaluating quality computer repair services in District 2
To be able to find a reputable and quality computer repair service provider in District 2, you can refer to the following criteria:
Provide enough information:
A professional operating unit will have full contact information to help customers find out the fastest. Pay attention to the information about the website, address, phone number, facebook, email, … for you to refer to the service when needed.
Reviews from customers who have used the service:
We can find out information, customer reviews on websites, forums, Facebook groups. If you provide good service, you will receive good reviews, and if there are "fake" articles, you should be careful when choosing.
Before repairing, reputable centers will make clear and specific quotes for customers. You can refer to prices in many places and compare, if appropriate, agree to repair.
And please note, the price goes hand in hand with the quality, if the quote is too cheap compared to the market you should be careful. Parts quality may not be guaranteed. Or if the center is ambiguous in the quote, you should change the location because you may lose money unjustly.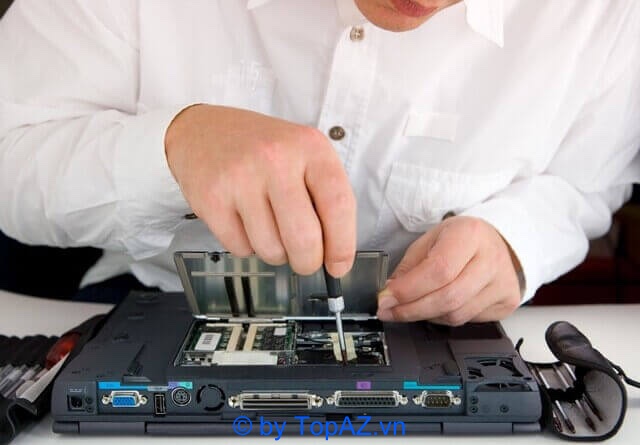 Consulting support, facilities and machines used:
Through the way the consultant supports checking and reporting machine errors, you can evaluate the service quality and staff skills of that center. This is a very important factor determining the quality of repair services.
In addition, you should learn about the facilities of the store or center where you plan to repair the machine. If the facilities are good, there are all kinds of modern supporting machines, you can be more assured.
A standard repair procedure would be as follows:
Receive information about machine status from customers.
Perform a test to determine exactly what error the machine is experiencing, and take corrective action.
Provide quotes for customers.
If the customer agrees, then the repair will be carried out
The repair center will write a receipt for the customer. State full machine information, error status and component information, appointment date to pick up the machine, etc.
After completion, customers will be contacted to receive the machine and warranty paper.

Full warranty:
If a unit provides quality and reputable repair services, that repair unit should have a commitment to full warranty policies. Because there is certainty, it is enough to be able to fulfill their commitments.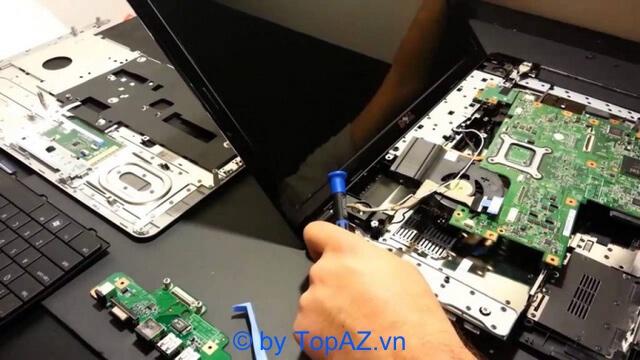 Some things to know when going to repair computers in District 2
To limit all unnecessary errors when repairing computers, you should note the following:
Only bring the machine to repair when absolutely necessary, if the errors are small and simple, you should ask friends for support.
Before repairing, it is necessary to back up important data to another device and log out of all accounts on the computer to limit problems and loss of personal information.
Must receive the recipient, sign the component when delivering the machine to the repair unit. Check that the information on the receipt is correct.
Save the contact information of the repairman for convenient communication and check the machine's status.
When receiving the machine, it is necessary to check whether the sealing stamps and machine errors have been completely repaired. Receive and pay attention to the information on the warranty paper, if there is a problem, then bring the machine to the repair unit for support.
---
Above are the top 5 cheap and reputable computer repair addresses in District 2 gathered by TopAZ Review based on positive customer reviews after using the service. Hope this will be useful information for you. If you need further advice, please contact the unit you are interested in for the fastest advice.
MAYBE YOU ARE INTERESTED: