Top 5 Shop hoa tươi ở TP Biên Hòa, Đồng Nai giá rẻ, ship tận nơi (Cập nhật)
Fresh flower shops in Bien Hoa City, Dong Nai offer a variety of products from birthday flowers, anniversary flowers, opening flowers, condolences… For bouquets and flower baskets to be carefully prepared, you should choose the The store has quality products and reputable services.
Review of 5 prestigious flower shops in Bien Hoa City, Dong Nai, the best price
Ever since, fresh flowers are used as gifts to express feelings and thoughts to loved ones. When material life is improved, spiritual values ​​are increasingly cared for. Therefore, the demand for fresh flowers and gifts in Bien Hoa city is very large.
If you are intending to buy fresh flowers as a gift for your lover, life partner, colleagues … readers do not miss the 5 most prestigious fresh flower shops in Bien Hoa City, Dong Nai in the following content:
#01
Dalat Hasfarm Bien Hoa
Dalat Hasfarm is a pioneering fresh flower company developing professional floriculture. In addition to the distribution of flower varieties, potted flowers, cut flowers, etc., the company also develops flower shops in big cities and provinces to meet the needs of fresh flowers and gifts.
Dalat Hasfarm Bien Hoa is a reputable, quality flower shop that readers can consider and consider choosing. All flowers in the shop are grown in Da Lat. Flowers are carefully selected for each branch, ensuring standards of color and scent. Choosing Dalat Hasfarm Bien Hoa, readers will not have to worry about poor quality flowers, artificial odors, poor color flowers, and rapid wilting.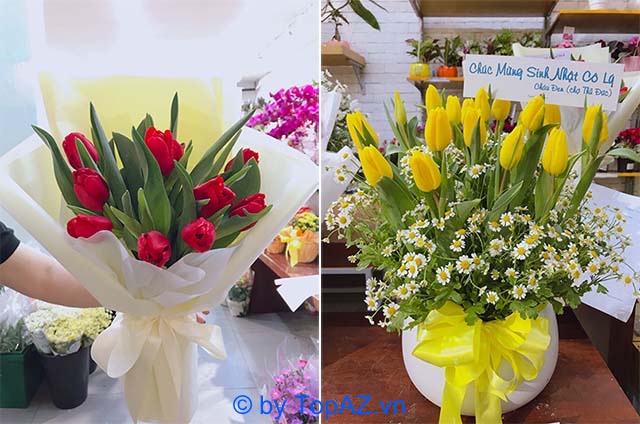 Similar to other branches, Dalat Hasfarm Bien Hoa offers a variety of fresh flower products:
Fresh flowers love, memories
Fresh flowers for birthday
Congratulations fresh flowers
Thank you flowers
Condolence flowers
the wedding flowers
Decorative flowers
In addition to quality, the shop also ensures a variety of flowers, colors and designs (bouquets, flower baskets, flower baskets). Dalat Hasfarm prioritizes providing seasonal flowers to optimize costs for customers, while ensuring the best quality flowers with large sizes, colorful colors and passionate scents.
Dalat Hasfarm offers a full range of flowers from roses, carnations, tulips, hydrangeas, ranunculus, peony, snow apricot… In addition to designer flowers, the shop also has flower pots for decoration or as gifts such as phalaenopsis, tulips, anthuriums, laurels, eternal flowers, orchid pots…
Dalat Hasfarm Bien Hoa fully updates the products on the website with detailed descriptions and public prices. If you do not have time to go to the store, you can order flowers online to save time. In addition to the branch in Bien Hoa, Dalat Hasfarm is also a quality flower shop in Ho Chi Minh City and many other provinces.
Contact Info:
Address: 1172 Pham Van Thuan, Tan Tien Ward, Bien Hoa, Dong Nai
Phone number: 025 1381 6707
Website: shop.dalathasfarm.com
Fanpage: FB.com/hasfarm.bienhoa
#02
Fresh flowers Le Minh
Le Minh fresh flower is a fresh flower shop with good price and quality in Bien Hoa City, Dong Nai. This is a flower shop that has operated for quite a long time, built up a reputation by quality products, ranging from wedding flowers, wedding car decorations, events, opening flowers, housewarming flowers, birthdays, love …
Le Minh fresh flowers can meet all customer requirements from gift flowers to event decoration. The store's service is extremely attentive, dedicated, promising to bring absolute satisfaction.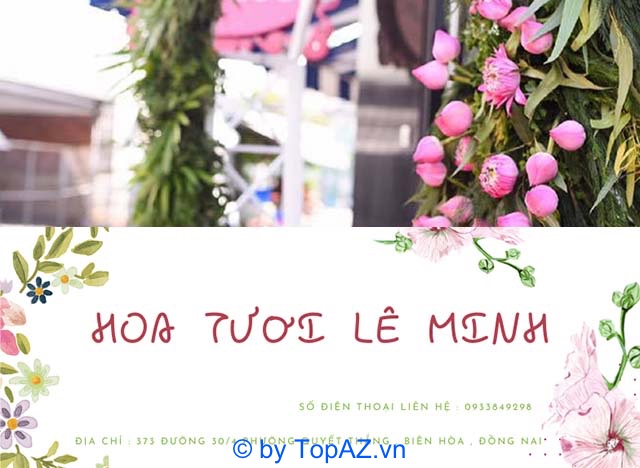 The shop imports fresh flowers every day and always has common flowers available such as orchids, roses of all kinds, lotuses, daisies, coins, carnations, sunflowers, marbles, roses… invest in flowers and accessories to create beautiful and well-formed flower products.
When you go to the store in person, you can manually choose each flower and ask the staff to wrap it up. Or you can also order online via fanpage or website. The shop's fresh flower products from bouquets, flower baskets, flower baskets, flower shelves… all have elegant, sophisticated and luxurious designs.
The price of fresh flowers is clearly and publicly listed on the website by the shop. Readers can consult in advance to choose a fresh flower shop in Bien Hoa, Dong Nai that is suitable for "wallet". The store also has a flower delivery service with quick time, enthusiastic shipper team.
Contact Info:
Address: 373 Street 30/4, Quyet Thang Ward, City. Bien Hoa Dong Nai
Phone number: 0933 849 298
Email: hoatuoileminh@gmail.com
Website: shophoatuoibienhoa.com.vn
#03
Su Su fresh flower shop
If you are looking for a fresh flower shop in Bien Hoa with flower delivery service and online flower ordering 24/7, Su Su Fresh Flower Shop is the right choice for you. The store provides fresh flowers, gifts and fast delivery in areas such as Tan Mai, An Binh, Tan Hiep, Tan Hoa, Ho Nai, Tan Phong, Tam Phuoc…
With the companionship of Su Su Fresh Flower Shop, even if you are busy, you can still send fresh flowers to your lover, family, friends and colleagues. The store specializes in providing fresh flowers on the occasion of birthdays, openings, congratulations, love flowers, anniversaries.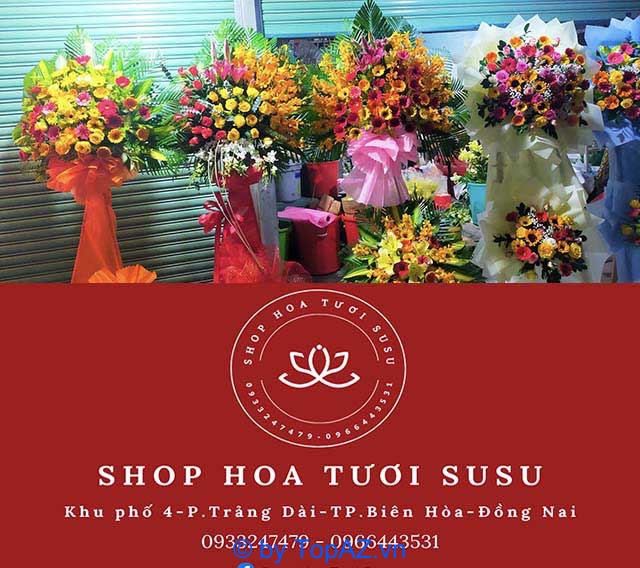 After 8 years of operation, the shop is increasingly diverse in types and designs. In addition to the available models, the shop also accepts flower designs at the request of customers. Make sure to bring beautiful, well-organized flowers to express your sincerity and affection to the recipient.
Su Su fresh flower shop has the advantage of ordering flowers online. Readers can refer to the flower samples on the website and ask for the support of a consultant to choose the right model. The shop is committed to always using fresh flowers of class I, flowers keep freshness for at least 3 days, the actual product is the same as the sample 95-98%.
Fresh flowers of variety, quality, fast flower delivery service and attentive and dedicated customer care are the factors that make up the reputation of Su Su Fresh Flower Shop. In addition, the price of flowers here is also extremely reasonable, creating conditions for everyone to have the opportunity to express their love to those around them.
Contact Info:
Address: KP 4, Trang Dai Ward, City. Bien Hoa Dong Nai
Phone number: 0966 443 531
Email: hoatuoisusubienhoa@gmail.com
Website: hoatuoisusubienhoa.com
Fanpage: FB.com/profile.php?id=100062930005099
#04
Nha Vy fresh flowers
Nha Vy fresh flowers was established with the motto "Starting love". Indeed, fresh flowers are gifts, although they have no material value, but contain countless sincerity and intentions of the giver. The store wants to be able to become a "connector" to share and connect love despite the geographical and time distance.
Nha Vy fresh flowers offers a full range of fresh flower products such as wedding flowers, congratulatory flowers, opening flowers, birthday flowers, conference flowers, condolence flowers… Depending on your preferences and budget, you can choose flowers. bundles, baskets, shelves or pots.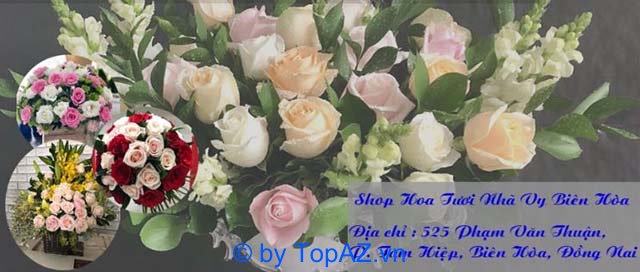 The shop imports fresh flowers every day to ensure freshness, scents and vibrant colors. Besides, the shop's staff also quickly update new flower arrangement trends, giving customers trendy, gentle and delicate fresh flower products. Experienced staff, can meet all requirements and design flowers according to the recipient's preferences.
Flower prices at Nha Vy Fresh Flowers are quite diverse from 250K, 300K, 500K, 1000K, 1200K to 3500k. If you have a limited budget, you can ask a consultant to choose a flower that is both beautiful and "chestnut". Most of the customers who have bought fresh flowers here are satisfied with the product quality as well as the service attitude.
Contact Info:
Address: 60/29 Vu Hong Pho, Binh Da Ward, City. Bien Hoa, Dong Nai
Phone number: 035 9629 628
Website: hoatuoinhavy.com
#05
Little Peony
The last name in the top of the beautiful and prestigious flower shops in Bien Hoa City is Little Peony. This cute-named flower shop is geared towards a gentle, delicate and sweet floral arrangement. Little Peony will be the right choice if you are looking for fresh flowers for your wife, lover, mother, best friend…
Little Peony does not pack flowers, arrange flowers in the traditional style. Here, it is not difficult to see that the flowers are arranged, the package is very simple, not too fussy to enhance the inherent natural beauty. The shop's fresh flower products are impressed by gentle pastel colors, harmonious and fresh color schemes.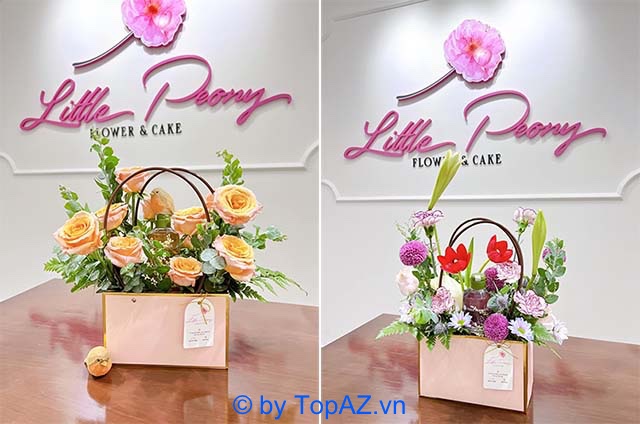 In addition to popular flowers such as roses, chrysanthemums, gerberas, carnations, lilies, gerberas… Little Peony also imports rarer flowers such as lavender, tana chrysanthemum, ranunculus, single- and double-wing tulips, sea ​​lane. Besides fresh flowers, the shop also has strawberries and chocolates as gifts for merchants on special occasions.
Pursuing a modern and gentle flower arrangement style, Little Peony will be suitable for young people. Because most of the flowers are imported, the price will be higher than other fresh flower shops in Bien Hoa city area. In return, the shop's products are extremely unique, which can send love to the recipient on your behalf.
Contact Info:
Address: C12 N1 Street, Lien Ke Buu Long Area, City. Bien Hoa Dong Nai
Phone number: 083 744 4699
Email: Yanhoang2701@gmail.com
Fanpage: FB.com/profile.php?id=100083362810087
Experience to know when choosing a fresh flower shop in Bien Hoa City
The demand for fresh flowers in Bien Hoa city is not inferior to other big cities. Therefore, it is not difficult to find fresh flower shops in this area.
In fact, the quality of products, services and prices vary from store to store. Many people have to pay a small amount for services of disproportionate quality. To limit risky situations, it is necessary to understand the following experiences before choosing a fresh flower shop in Bien Hoa.
Prioritize established stores: Today, the trend of shopping has shifted to online form to save time. However, when buying online, customers will have to face some risks such as products not like the picture, poor quality … When ordering fresh flowers in Bien Hoa, you should prioritize stores that have been in operation for a long time to avoid above situation.
Refer to actual pictures: To evaluate the flower quality of the shop, you should refer to the real image on the website or fanpage. In addition, you can ask the shop to send actual photos to ensure long-lasting flowers, beautiful colors. Reputable flower shops will often send real photos for customers to check before delivery.
Reasonable price, clear: Fresh flowers for gifts are priced quite differently depending on types, colors, sizes… A reputable fresh flower shop must ensure transparency in cost and price commensurate with quality.
Dedicated consultant: In addition to product quality, today's customers are also interested in service attitude. For a good experience, you should choose fresh flower shops in Bien Hoa with enthusiastic staff, dedicated advice.
There is a commitment to quality: All flower shops will have a commitment to quality for customers, such as fresh flowers for 2-3 days or more, delivered on time, the real product is 95-97% like the picture… flowers online, you need to ask carefully about these issues to ensure your rights.
Fast flower delivery: The hustle and bustle in life can make you forget someone's anniversaries or birthdays. If you urgently need fresh flowers to give your loved ones, family, friends, etc., you should choose stores that support fast flower delivery in 1-2 hours.
---
Conclude: Fresh flowers are a suitable gift for most occasions from birthdays to anniversaries, grand openings, housewarming, etc. To choose beautiful flower baskets and flower baskets at reasonable prices, you should look to reputable fresh flower shops. in Bien Hoa City, Dong Nai. Hopefully, through the above 5 suggestions, readers can find a "gut" store to look to when there is a need to buy fresh flowers.
MAYBE YOU ARE INTERESTED: