Top 5 Shop hoa tươi tại Quận 7, TPHCM dịch vụ giao hoa nhanh (Cập nhật)
With the holidays approaching, you are wondering about choosing fresh flowers for your friends and relatives? 5 fresh flower shops in District 7, Ho Chi Minh City, fast delivery service will definitely help you solve this difficult problem.
Review of 5 shops selling fresh flowers in District 7, HCMC with fast, cheap shipping
Choosing fresh flower products among countless flower shops is quite a "headache" for customers who want to buy as gifts, decorations, etc. The style and design of flowers need to be suitable for the event taking place, transmitting the message. Download the right message that the giver wants.
Top 5 fresh flower shops in District 7, Ho Chi Minh City will be the most prestigious establishments you can trust to get satisfactory products:
#01
Vy Xuan Flowers
Vy Xuan Flowers specializes in trading high-class fresh flower services. Although a very new unit in the field of fresh flowers, Vy Xuan offers many direct products and online orders, fast delivery to recipients on time and reputation.
The shop specializes in providing fresh cut flowers suitable for special events such as birthdays, wedding flowers, opening flowers, love flowers and condolence flowers, visits for funerals.
Flowers at the shop are imported from various sources. Inland from Da Lat popular types such as sunflower, rose, carnation, heather, chrysanthemum, …. Some other flowers are imported from international countries around the world.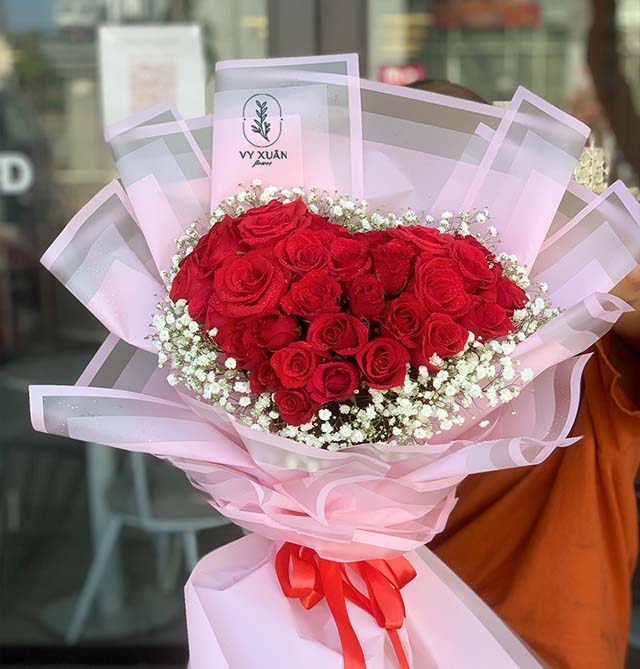 Luxurious and meaningful fresh flower products are created by skilled florists, many years of experience and creativity in flower arrangement techniques. Thanks to that, each flower basket, flower bouquet becomes a work of art that contains many meanings and feelings of the giver.
In addition to the service of buying flowers directly at the store, this is also a flower delivery unit that delivers directly to recipients in all regions. Get wedding flower design and congratulation flowers in events, conferences.
In addition, Vy Xuan Flowers also designs flower samples on request in accordance with the cost given by readers. Give a card or banner with wishes and messages to the recipient of the flower.
The grand opening promotion is going on very excitingly at the shop. Orders are delivered quickly in a few hours, ensuring safety, correct recipient address.
#02
Contact Info:
Address: 1338 Huynh Tan Phat, Phu My Ward, District 7, City. Ho Chi Minh
Phone: 090 913 1457
Email: vyxuanflower@gmail.com
Fanpage: FB.com/vyxuanflowers
#03
Ngoc Van flower shop
Ngoc Van flower shop is a fresh flower shop in District 7 that offers a variety of products with a variety of styles and prices compared to many other stores on the market at the moment. Meeting the needs of using flowers as gifts, decorating parties, weddings, events, …
Fresh flowers are combined into many popular combinations such as: flower baskets, flower baskets, flower bouquets, wreaths, hand held wedding flowers for the bride and many different designs created according to the cost required by the customer. Designs are renewed and updated continuously according to trends in the flower market. Adapting to different timelines, locations and spaces, giving recipients emotions with special meaning.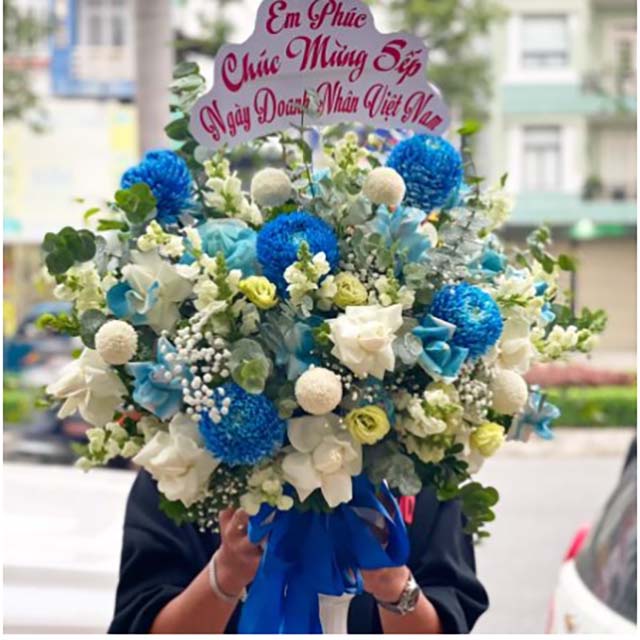 The florists here are all passionate about making fresh flowers into unique products. Each flower branch is carefully selected by workers and a team of assistants. Remove flowers with the phenomenon of wilting, crushing, avoiding affecting the beauty and quality of the finished product.
Ngoc Van flower shop has staff who specialize in delivering goods throughout the store's own areas. Therefore, flower quality as well as delivery schedule are guaranteed, according to the time frame noted by the customer. The team always try their best, advise and take care to give customers the best shopping experience.
In addition to cut flowers, this place also offers phalaenopsis orchids and desk plants with many unique designs. Readers can conveniently buy themselves a decorative tree, refresh their study, home or workplace.
Reference price: 250,000 – 9,000,000 VND
Contact Info:
Address: 86 Street No. 15, Tan Kieng Ward, District 7, City. Ho Chi Minh
Phone: 0774 419 886
Email: thanhuuduong84@gmail.com
Website: hoatuoiquan7.com
#04
Bao Anh Flowers & Fruits
After many years of establishment and development, Bao Anh Flowers & Fruit has risen to become one of the leading prestigious fresh flower shops in Ho Chi Minh City. Besides, this is also a famous supplier of fresh flowers and imported fruits in Ho Chi Minh City. Serving the needs from physical to mental health for everyone.
High quality consulting services, flower arrangements, party and event decoration services. Committed to satisfying even the most demanding customers. Stable costs are maintained, creating a sense of security, shopping for fresh flowers and fruits without worrying about the price.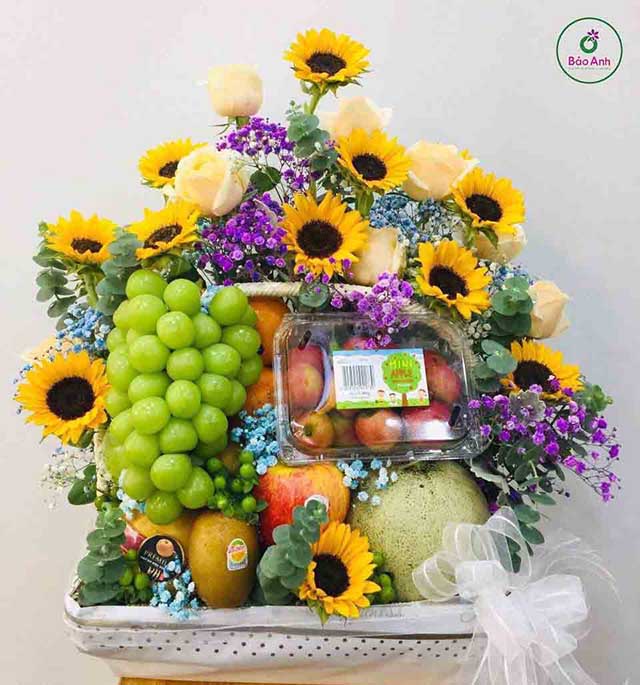 The benefit of the user is the top criterion of the unit. Therefore, fast delivery schedule, high technical level of flower arrangement, completion of the required estimate, professional and friendly staff are the factors that are focused to bring good quality service. best for customers.
In addition to the diverse models and styles sold directly, the unit is also a fresh flower shop in District 7 that receives delivery to the recipient according to the required time frame. The shipping time is precisely aligned, in response to the order received.
In order to bring the most satisfied service to customers, Bao Anh Flowers & Fruit team has been constantly trying, learning and striving for better improvement in all aspects. Reaching and serving many potential customers all over the country.
Contact Info:
Address: 81 Nguyen Thi Thap, Tan Phu Ward, District 7, City. Ho Chi Minh
Phone: 086 823 8522
Email: hoabaoanhquan7@gmail.com
Website: hoatuoibaoanh.com
Fanpage: FB.com/Hoatuoibaoanh
#05
Fresh flower shop F Flowers
If you are looking for flowers that symbolize the messages you want to send, the fresh flower shop in District 7 – F Flowers is the right address. The shop specializes in providing fresh flowers with many designs created by florists or arranged according to customers' requirements.
Each color and design at the shop carries a certain story and meaning. Red roses symbolize love; white represents purity and innocence; Yellow brings joy, brilliance and joy…. Customers can rely on the message from the flower to choose the right product for the recipient or the upcoming event.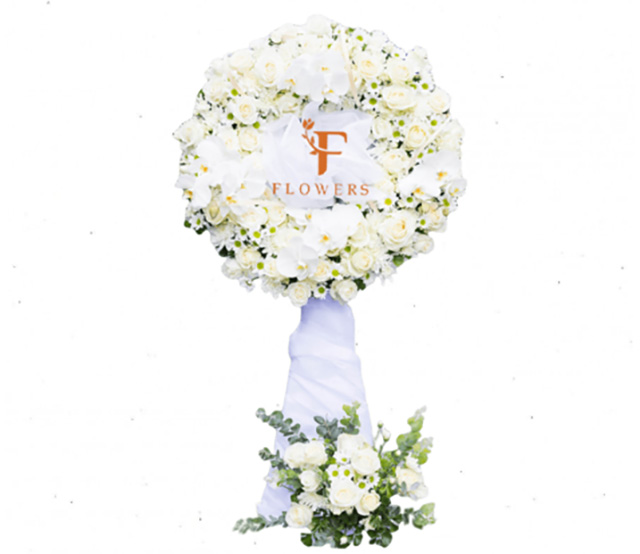 This is a fresh flower shop in Ho Chi Minh City with many popular professional flower services such as: bouquets, flower boxes, grand opening, condolence flower shelves, hand held wedding flowers for the bride. In addition, the shop also sells pots of phalaenopsis orchids, meeting the needs of gifts, home decoration for devotees who love the beauty of orchids.
Delivery service inside and outside the province is done professionally and quickly. For the central areas of Ho Chi Minh City, the shop applies a policy of free shipping to the hands of the recipients safely, on time as committed to customers.
In particular, if businesses or companies have a need to print logos on ribbons, this is also a beautiful, high-quality printing point. Convenience in wrapping exclusive gifts for employees or partners, customers of your company.
Reference price: 300,000 – 5,000,000 VND
Contact Info:
Address: 62 Street No. 15, Tan Kieng Ward, District 7, City. Ho Chi Minh
Phone: 038 795 3786
Email: thuyta1610@yahoo.com
Website: flowers.vn
Fanpage: Fb.com/hoatuoiFFlowers
#06
Flower shop HOA18
After 10 years of establishment and development, HOA18 is proud to be a prestigious flower shop with many large and small customer files in 63 provinces and cities in the country and 150 countries around the world. The domestic and foreign flower electricians operate at high capacity to bring optimal quality services to customers, anywhere, anytime.
Specializing in the business of key services in the flower industry, HOA18 connects with farms to support flower production and create conditions for farmers to connect with flower shops in many regions.
Besides, the system also provides finished flowers on request or available. Distributing flower materials for shops, large and small flower agents. The flower arrangement and flower business training classes receive students continuously in order to impart skills and knowledge to help people have the opportunity to find good jobs and stable incomes.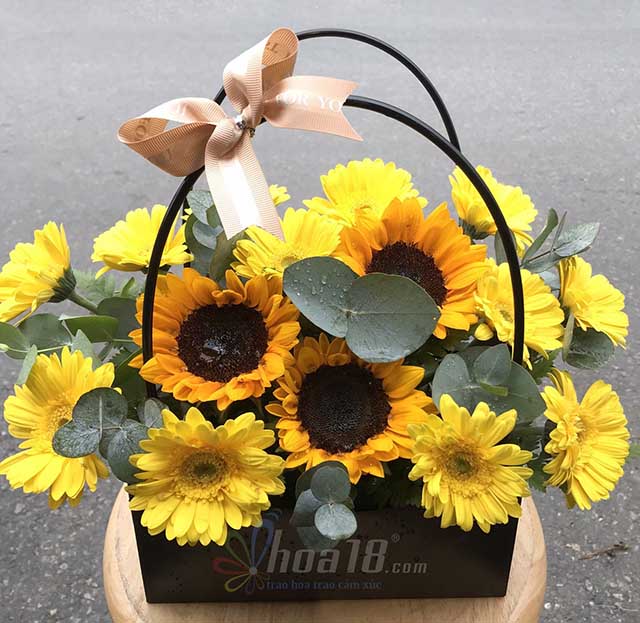 In the era of advanced technology, HOA18 is one of the modern online flower shop in Ho Chi Minh City. The unit does business and trades on many website platforms and popular social networking sites such as Facebook, Instagram, Viber, etc. Enthusiastic consulting team, professional working style, complete customer support on all business channels.
With the desire to be a trend leader in the Vietnamese flower market, HOA18 is constantly improving and updating technology to reach customers. Bringing the best services and shopping experience at branch locations nationwide or online.
Besides flower products to meet the needs of gift giving, parties, weddings, funerals, weddings, … The shop also provides accompanying gifts such as fruit baskets, fresh flowers, fruit gifts, fruits. wholesale and retail; dried fruit seeds, confectionery, cake, teddy bear, chocolate, wine, etc.
Shipping on time, ensuring the work progress with high accuracy, committed to the same image and design as the customer required. The process, preservation and care of flowers are clearly disseminated on the website to help customers maintain the time of using fresh flowers.
Reference price: 549,000 – 3,549,000 VND
Contact Info:
Address: 1 Tan My, Tan Phu Ward, District 7, City. Ho Chi Minh
Email: info@hoa18.com
Website: HOA18.com
Fanpage: FB.com/hoa18com
Experience choosing a fresh flower shop in District 7, Ho Chi Minh City with prestige, fast delivery
During holidays and special events, fresh flowers are the top selling products in the gift market. Choose the facilities that provide quality flowers, fast delivery to help customers send gifts to the recipient at the desired time. Let's take a look at some valuable experiences to search for fresh flower shops in District 7 with the fastest shipping:
Purpose of buying flowers: Depending on the needs of the party, holiday or gift recipient, readers choose flowers with different colors. When you clearly define the purpose of buying flowers, you can easily zone the flower shop that provides the right service.
Own a dedicated team: The shop has its own delivery service and professional staff that will bring customers a good shopping experience. At the same time, make sure the shipping time is in line with your expectations before, promptly reaching the recipient.
Transparent purchase and return policy: Fresh flowers are difficult products to preserve, especially in the process of moving flowers that are easily crushed and damaged. The store allows return and exchange and has a clear purchase policy that will ensure the interests of customers in the unfortunate case.
Various models: The trend of fresh flower arrangements is constantly updated. Therefore, in order to be able to choose beautiful products with unique flower styles, readers should look to fresh flower shops in District 7 to receive customized designs or create many rich and fancy designs.
Suitable selling price: Currently, in addition to the products available at the listed prices, readers can easily find many fresh flower shops that accept designs and designs at the customer's suggested price. Therefore, you can own beautiful flower products according to personal financial requirements.
---
Conclude: The demand for fresh flowers is hotter than ever on special important occasions, holidays, etc. In addition to the top 5 flower shops in District 7, Ho Chi Minh City with fast delivery above, TopAZ Review hopes to be heard. Share more reputable addresses from readers.
MAYBE YOU ARE INTERESTED: