Top 5 Shop hoa tươi tại quận Tân Phú, TPHCM đẹp, uy tín (Cập nhật)
Fresh flower shops in Tan Phu district are increasingly invested in space, flower quality and delivery services are also constantly improved. When there is a need, you can absolutely choose beautiful flowers to give as gifts to your loved ones, friends, relatives, …
Review of 5 fresh flower shops in Tan Phu district, Ho Chi Minh City, beautiful, fast delivery
Fresh flower shops are the places where you can buy bouquets and flower baskets to send to your loved ones. Currently, the demand is high, so in addition to the traditional designs, flower shops also update some new designs such as flower boxes, bouquets with gifts. At the same time, diversifying more designs and types of flowers for customers to have more choices.
If you are wondering when choosing a fresh flower shop in Tan Phu district, readers can refer to 5 reputable addresses summarized by TopAZ Review in the following content:
#01
Pretty Little Flowers
Hoa Nho Xinh is a prestigious fresh flower shop in Tan Phu district that is highly appreciated and trusted by many customers. The shop owner is a flower lover, wishing to bring customers beautiful and meaningful flowers so that they can express their love to their loved ones.
The store has a wide variety of fresh flowers such as opening fresh flowers, love flowers, birthday flowers, bouquets, bridal fresh flowers, sympathy flowers, lily flowers, phalaenopsis orchids, etc. , Small Flowers also accept floral design and use fresh flowers to decorate weddings, weddings, events at the request of customers.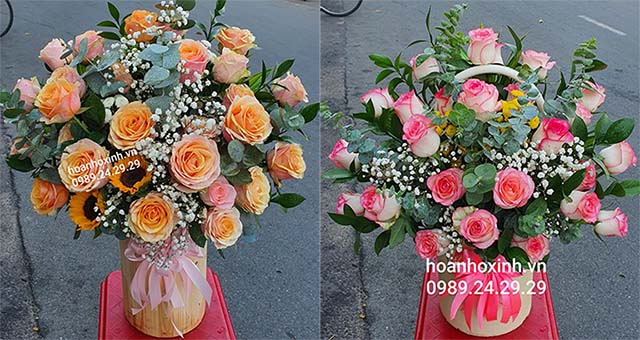 The amount of fresh flowers at the store are mainly domestic flowers imported from Da Lat and some flower farms in other localities. Fresh flowers are imported regularly, ensuring freshness, petals are even and color is correct.
The staff of Hoa Nho Xinh are thoroughly trained in flower wrapping techniques, know how to prune the scene, and preserve flowers properly. The store promises that the flowers will keep fresh for about 3 days after reaching the customer's hand. Some special flowers can stay fresh for 5-7 days.
On the website of Hoa Nho Xinh, there are many updated flower bouquets, flower baskets, flower shelves, etc. In order for customers to quickly grasp the meaning of each bouquet, the shop names each flower separately such as "Birthday flowers – Lips". pretty", "Birthday flowers – Pretty garden", "Birthday flowers – In memory", "Glory flowers", "Flowers for love",…
Thanks to the unique naming, customers can easily understand the meaning of each flower bouquet. Therefore, readers will not spend too much time asking for advice. This also brings the convenience of ordering flowers online. In addition to flower quality, fast and accurate delivery service is also an advantage when ordering flowers at Hoa Nho Xinh.
Contact Info:
Address: 208 Hoa Binh, Hiep Tan Ward, Tan Phu District, City. Ho Chi Minh
Phone number: 0989 24 2929
Email: xuyenhuynh260991@gmail.com
Website: hoanhoxinh.vn
#02
Heaven's Flower
"Sending all the love" is the operating motto of the fresh flower shop, Hoa Cua Troi. The store was founded with the desire to accompany everyone in the journey of giving love. Fresh flowers are a simple gift but contain the deep heart and sincerity of the giver.
Hoa Cua Troi is located on Au Co street – one of the busy streets in Tan Phu district. Convenient location, spacious shop will give customers a good experience when buying fresh flowers. Previously, the shop only met the demand for fresh flowers in the area. However, at present, Hoa Cua Troi can supply fresh flowers for the whole HCMC area.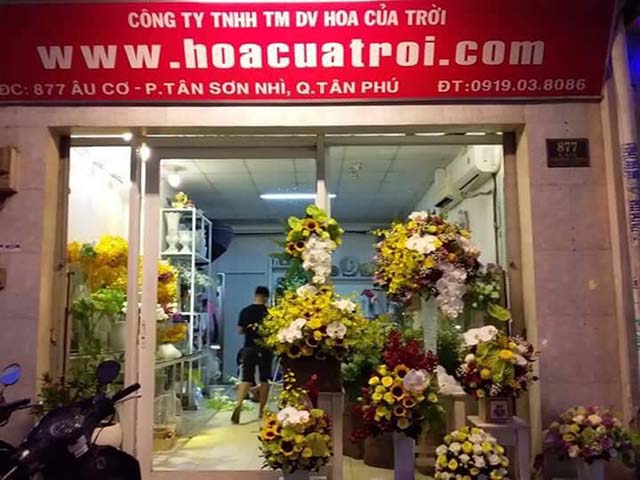 Not only is it a place to provide fresh flowers, Hoa of Heaven is also a place for flower lovers to be creative and live with passion. Fresh flowers are cherished, trimmed and carefully wrapped to become meaningful gifts with the mission of "sending love".
Most of the customers who have ordered flowers at the store are satisfied with the product quality. Fresh flowers have beautiful colors, flower sizes are even, freshness can be kept for at least 3 days. In addition, the store also has a variety of flower designs to give customers more choices when buying gifts.
Heaven's Flower Shop pays great attention to service quality. When coming to the store, customers are not only impressed by the product quality but also have sympathy for the cute and enthusiastic staff. The store is constantly updating and creating new and trendy flower designs.
Contact Info:
Address: 877 Au Co, Tan Son Nhi Ward, Tan Phu District, City. Ho Chi Minh
Phone number: 0919 038 086
Email: hoacuatroi.com@gmail.com
Website: hoacuatroi.com
#03
Mrhoa.com (Fresh flowers MrHoa)
If you need to find a fresh flower shop in Tan Phu district with fast delivery service, Mrhoa.com is the right choice for you. Seeing the need for flower delivery services, MrHoa was founded to be able to provide customers with fast and accurate flower delivery services.
The store always ensures the quality in each fresh flower product. Flowers are imported directly from flower farms, say no to frozen flowers (even at times of high demand). The store also imports many kinds of foreign flowers with unique and novel designs and designs to serve the needs of gifts and satisfy the "flower play" of many customers.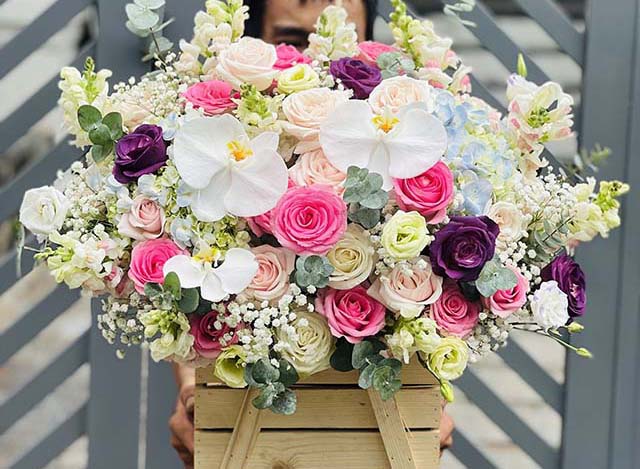 Mrhoa.com is considered a prestigious fresh flower shop in Tan Phu district not only because of the quality of flowers. Delivery service is almost the fastest in all fresh flower shops in Ho Chi Minh City. The store can deliver flowers by express after only 60 – 120 minutes for inner city areas and 90 – 150 minutes for suburban areas.
When ordering flowers at Mrhoa.com, customers will be sent actual pictures before delivery of flowers. The store will also support re-editing if the customer is not satisfied. Mrhoa.com offers free banners and cards and will support customers to write handwritten cards to express their sincerity to the recipient.
To ensure the quality of service, the store has its own team of well-trained shippers. Because transporting flowers, especially flower baskets and large flower shelves, is extremely difficult. Without training, flowers will be difficult to reach the recipient intact and the situation of wilted and crushed flowers is also unavoidable.
Mrhoa.com has many models of congratulatory flowers, flower bouquets (wrapped flowers), flower baskets, flower shelves, etc. The products are classified into specific categories by style, price, origin (domestic flowers – flowers). import) so that customers can easily find the right product.
Contact Info:
Address: 877 Au Co, Tan Son Nhi Ward, Tan Phu District, City. Ho Chi Minh
Phone number: 0975 23 5551
Email: lienhe@mrhoa.com
Website: mrhoa.com
Fanpage: FB.com/mrhoa.vn
#04
LineFlower
LineFlower is one of the prestigious fresh flower shops in Tan Phu district. The store has a full range of fresh flowers with a variety of types, colors, origins and designs. In addition, the flower shop also accepts flower designs according to the requirements of customers.
LineFlower store owns a team of skilled, experienced workers and good aesthetic eyes. The team of workers can meet all the requirements of customers from flower bouquets, flower baskets, flower baskets, flower shelves, flower boxes, etc. In addition, the team of workers also receive flower packages with gifts to increase the uniqueness of the dish. gift.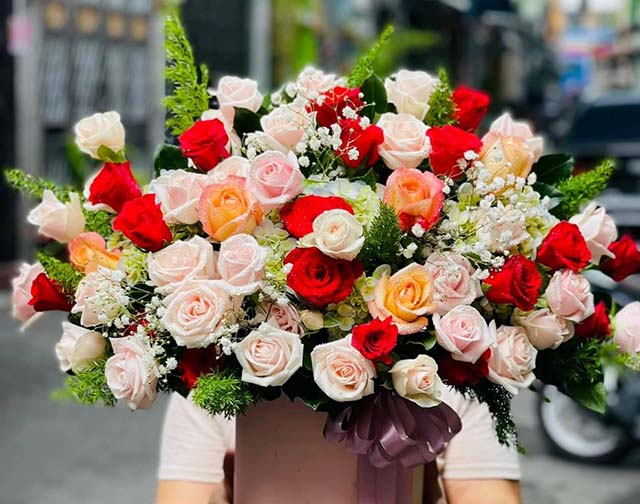 LineFlower cooperates with many reputable flower farms to ensure fresh flowers every day. Even when the demand is high, the store still has enough flowers to satisfy. Say no to frozen flowers and flowers of unknown origin. In addition to fresh flower products and gifts, the shop also has many strange and unique flowers for flower lovers and has the pleasure of arranging flowers in their spare time.
LineFlower flower shop also offers customers fast flower delivery service. Customers who do not have much time can use this service to promptly deliver gifts to their loved ones. With enthusiasm and professionalism, the store always supports and meets all customer requirements.
If you have time, you can go directly to the store for advice and assistance in choosing flowers. The store is located in a convenient location, so readers who are working and living in Tan Phu district can easily visit when they have a need.
Contact Info:
Address: 234 Nguyen Son, Phu Tho Hoa Ward, Tan Phu District, City. Ho Chi Minh
Phone number: 0939 399 807
Email: nguyensonflower@gmail.com
Website: lineflower.net
#05
Ha My fresh flowers
With a variety of fresh flower products and good service, Ha My Fresh Flowers deserves to be in the top of prestigious fresh flower shops in Tan Phu district. The shop offers a variety of fresh flowers, diverse in types and designs. Each flower will have its own meaning, which can help the giver express their feelings and thoughts for their loved ones.
Fresh flowers Ha My understands that each bouquet, flower basket contains countless emotions. Therefore, the conscious store must put product quality first. Ha My fresh flowers are committed to only importing fresh flowers, not using frozen flowers to ensure freshness and color to the right standards.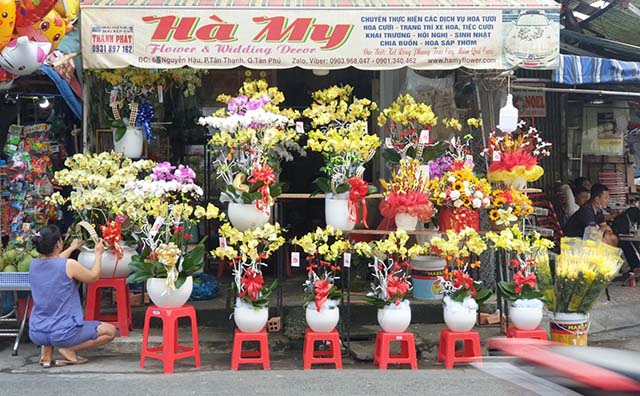 The store can meet the needs of fresh flowers for congratulation, fresh flowers for events, fresh flowers for office, fresh flowers for happy birthday, fresh flowers for car decoration, wedding flowers, dragon phoenix, … In addition to the available models, The store also accepts designs and realizes all customers' ideas.
Choosing Ha My Fresh Flowers, you will be "Instead of what you want to say – Connect with love!" with flower bouquets, flower baskets are meticulously trimmed and wrapped. In Tan Phu area, the shop has two locations, so you can come directly to get specific advice and evaluate the quality of flowers here.
In case you need to order flowers urgently, readers can contact Ha My Fresh Flowers via hotline. After only 90 – 150 minutes, fresh flowers will be delivered to your place. The store always has a warranty policy, refunding the cost if the fresh flowers are not the same as the customer ordered or the flowers are crushed or damaged during the move.
Contact Info:
Address: 321K Tan Ky Tan Quy, Tan Son Nhi Ward, Tan Phu District, City. Ho Chi Minh
Phone number: 0906 555 332
Email: hoatuoihamy@gmail.com
Website: hoatuoihamy.com
Share how to choose a fresh flower shop in Tan Phu district, Ho Chi Minh City
Fresh flowers are a popular gift on many different occasions from birthdays to anniversaries, openings, etc. Even so, fresh flower bouquets still carry a very special meaning. Each flower has its own meaning through which you can convey your thoughts and feelings to the recipient.
It is this uniqueness that helps fresh flowers become a gift that "never gets old". Therefore, in the districts of Ho Chi Minh City in general and Tan Phu district, there are many fresh flower shops. If you cannot choose a reputable fresh flower shop in Tan Phu district, readers should refer to some experiences summarized by TopAZ Review:
Select a store that is already up and running: The demand for fresh flowers is constantly increasing, so there are many new stores coming into operation. These stores will hardly avoid errors in processing orders and receiving customer requests. Therefore, the advice for you is to choose fresh flower shops that have been operating stably.
Fast delivery: Currently, most people choose to order flowers online to save time. If you have a need to use this service, you should choose reputable online flower shops in Ho Chi Minh City in general and Tan Phu district in particular. Fast, accurate delivery is an important criterion you should keep in mind when choosing a flower shop.
Various models and designs: Nowadays, customers not only love flower bouquets but also want to order flower baskets, flower baskets, flower boxes, flower packages with gifts, etc. Moreover, instead of choosing familiar flowers, many people want to find unique flowers. unique as lavender, peony, dahlia. If you want to have a lot of choices, you should choose a flower shop with a variety of designs and patterns.
Reasonable price: The price of fresh flowers is not low, especially with imported flowers and strange and unique flowers. To avoid going over budget, it's a good idea to research prices in advance. Should choose a store with a price suitable for economic conditions to make it easier to choose flowers and flower baskets.
---
Conclude: Although not a new gift, fresh flowers are still the top choice for all occasions. Fresh flower shops in Tan Phu district can meet the needs of flowers for gifts and bring many unique and new flowers to satisfy the "playing with flowers" of believers. If you are wondering when choosing a flower shop, the criteria and objective reviews from TopAZ Review will assist you more or less in the selection process.
MAYBE YOU ARE INTERESTED: