Top 5 Trung tâm dạy tiếng Hàn tại Hải Phòng chất lượng tốt nhất (Cập nhật)
Korean language teaching centers in Hai Phong have been established more and more. Learning Korean not only serves the needs of studying and studying abroad, but some people also learn to work together. To equip yourself with a good knowledge of this language, you need to choose a quality training and teaching center. The following article will provide 5 reputable addresses for readers to choose from.
Review of 5 Korean language teaching centers in Hai Phong for effective training
The demand for learning foreign languages ​​is increasing day by day. Not only English, but learning Korean, Chinese, Japanese, etc. is also very popular. Finding a reputable Korean language teaching center in Ho Chi Minh City, Hanoi is very simple, but it is difficult for you to find a Korean language center in Hai Phong.
The following list of TopAZ Review will give you suggested answers for readers.
#01
Onnuri . Center
With more than 11 years of experience, Onnuri Center in Hai Phong has become a prestigious brand in the field of Korean language training. The center is also a place for effective Japanese and German training. Besides, if you are looking for an address to study abroad in Germany, Japan and Korea in Hai Phong, Onnuri is proud to introduce you to good schools when studying abroad, with the most economical costs.
The school's teachers are professionally trained teachers with many years of experience, dedicated to each lesson. Therefore, ensure to bring students useful learning hours.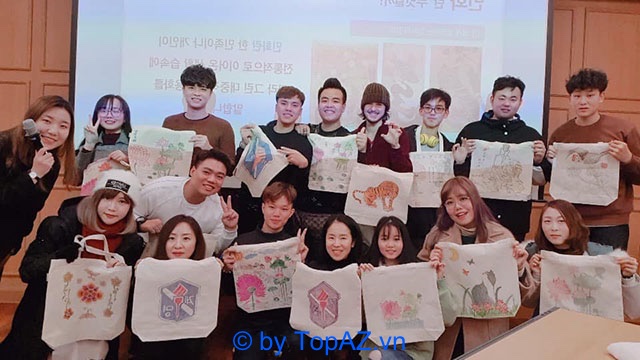 In addition, they are also masters who have studied in Korea. Therefore, in addition to teaching knowledge, the teachers also share about life skills and living culture in Korea, helping students better understand the land of kimchi.
In order to ensure a better exchange and acquisition of knowledge, Onnuri only maintains a class size of 8-12 students. During the lesson, students practice listening and speaking with the teacher, so that they can correct mistakes in pronunciation and help students confidently communicate.
Classrooms at Onnuri are spacious and airy. In each room, it is always fully equipped with teaching aids and machines. Tuition at the school is relatively cheap. In particular, the school also offers a 5% voucher, applied to students who register from 2 people or students who register before the opening day.
Contact information:
Address: 231A, Lach Tray Ward, Ngo Quyen District, City. Hai Phong
Phone number: 0936 798 911
Email: onnuri.ct@gmail.com
Website: duhoctaihaiphong.com
Fanpage: FB.com/profile.php?id=100057082944316
#02
VHQ Center
This is the top quality Korean language teaching center in Hai Phong. In addition to foreign language training, the school also teaches courses on informatics, accounting training with well-designed and practical curriculum. The center has 2 facilities, both built in Hai Phong. Students can more conveniently find a study address near them.
The goal of the establishment of the center is to continuously improve the foreign language proficiency of students. During the learning process, the center always has a policy of commitment to output with high efficiency.
The teaching staff at the selected center must have high qualifications. The teachers have many years of experience, training thousands of students. The Center confidently gives students easy-to-understand and effective lessons.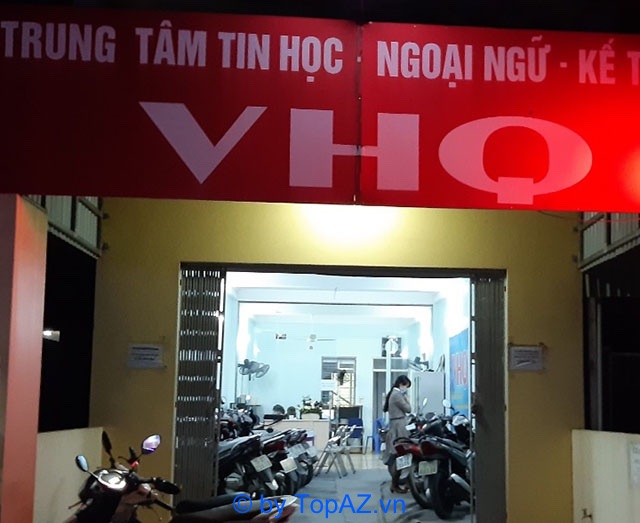 Besides, the foreign teachers at the center are teachers who have lived and worked for a long time in Vietnam. Therefore, it is possible to communicate in both Vietnamese and Korean with students, helping them to absorb the lecture faster.
The Center also builds and trains advanced learning programs. Using materials and textbooks that are renewed each year, updating knowledge and skills to follow the TOPIK exam (Korean language proficiency test). Therefore, always help students get a perfect score. In addition, at VHQ, there are always many Korean classes of the same level. As a result, students can make up for missed classes without losing knowledge.
The Center also invests in facilities and learning equipment to create a comfortable environment for students. At the same time, the system of teaching materials of the teachers is also carefully prepared by the center.
Regarding tuition fees, the center is committed to being the place with the cheapest tuition fees in Hai Phong. The school also implements many discount programs, tuition incentives on major holidays. Or, for students studying in groups, old students, the center also has an appropriate discount policy. The facility also supports students to convert, save classes, … with simple procedures.
Contact information:
Address: Dao Yeu 1, Hong Thai Ward, An Duong Dist., City. Hai Phong
Phone number: 0793 233 266
Email: trungtamvhq@gmail.com
Website: centertamvhq.com
Fanpage: FB.com/Trungtamvhq
#03
Shalom . TIN Center
Korean Language Teaching Center TIN Shalom Hai Phong with more than 6 years of experience in the field of Korean language training. The courses at the center include: knowledge classes from beginner to advanced level, TOPIK exam preparation, communication practice at all levels. In addition, the center is also a reputable unit in translation, interpretation and interpretation of Korean at companies, seminars, events, … in Hai Phong.
Classes at TIN Shalom center are arranged in a variety of ways, with flexible time. With a full time frame from morning to evening, students or working people are convenient to allocate appropriate study time.
With the strong reputation that has been built, the number of students enrolling is increasing. Therefore, every month the center opens courses of all levels. Students will be tested for their ability, then placed in the class right away, without having to wait.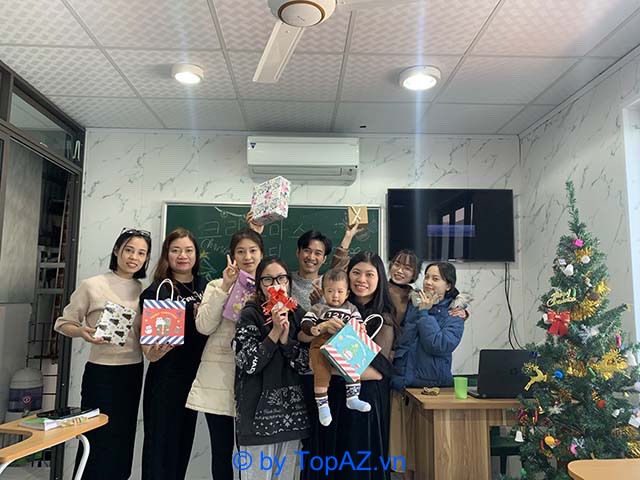 The center uses innovative curricula, applying the same professional teaching methods of teachers to bring lessons to help students absorb maximum knowledge. In an intuitive and lively way of teaching, the teacher not only imparts knowledge, but also organizes games and quizzes in the lessons for students to apply right in the lesson.
Moreover, the center also prepares small meals such as fruits and candies during class to motivate the students. The tuition fee of the center is not too expensive, considered suitable for the budget of the students.
The teachers at the center are all teachers who have achieved high results in Korean language exams and have many years of classroom experience. Moreover, the center also has a team of Korean teachers with seniority in teaching Korean to foreigners. Therefore, the knowledge imparted by TIN Shalom teachers is always effectively absorbed by students.
Contact information:
Address: 40/66 Nguyen Tuong Loan, Nghia Xa Ward, Le Chan District, City. Hai Phong
Phone number: 0868 739 093
Email: ngoaingutintin@gmail.com
Fanpage: FB.com/trungtamhanngutinshalom
#04
Maranatha Center
As a Korean language center under Maranatha Co., Ltd., the unit is loved and trusted by students. In addition to being a prestigious Korean language teaching center in Hai Phong, this is also a place for professional advice and registration to study abroad.
A special feature only when learning Korean at Maranatha is that you can try it for free. Before deciding to study officially, the center will create conditions for students to experience 1 – 2 trial lessons depending on their level. Through that, you can evaluate the environment, teaching style as well as the classroom atmosphere at the center.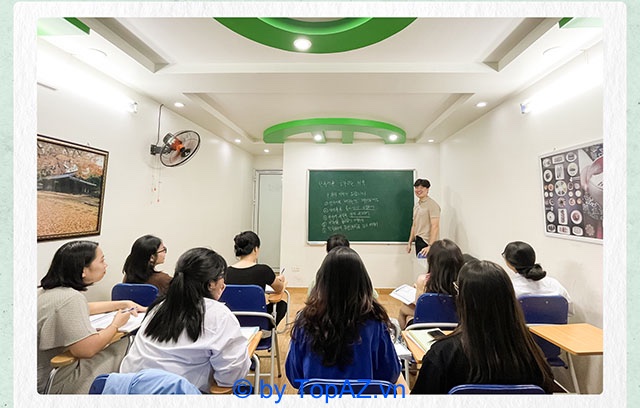 In addition to Korean knowledge classes, exam preparation classes, the center also recruits students to study Korean language courses for labor cooperators.
Classes at Maranatha range from beginner to intermediate and advanced. In addition, the center also opened Vietnamese language classes for Koreans. Therefore, besides practicing speaking with native teachers, Korean and Vietnamese students at the center can also improve their ability to communicate with each other.
In addition to the teachers who teach directly, the center also has a team of young and dynamic teaching assistants. Each class is arranged with a different teaching assistant, to remind students to study and do homework.
Contact information:
Address: 40A/36/9 Van Cao, Hai An District, City. Hai Phong
Phone number: 0901 400 898
Email: duhochanquoc.maranatha@gmail.com
Website: bloghanquoc.com
Fanpage: FB.com/trungtamtienghanhaiphong
#05
Emmanuel Center
Emmanuel Hai Phong is a quality international study abroad training and consulting center. With its prestige, the center is increasingly expanding with 3 facilities in Hai Phong. Readers can refer to the address information at the company's website or fanpage to choose the nearest facility.
The center specializes in teaching English, Japanese and Korean languages ​​with a high number of students. That's thanks to a team of teachers with many years of teaching experience here. The teachers also have many years of living and working in Korea. Therefore, it is possible to share the best situational handling experiences and life skills for students when coming to Korea.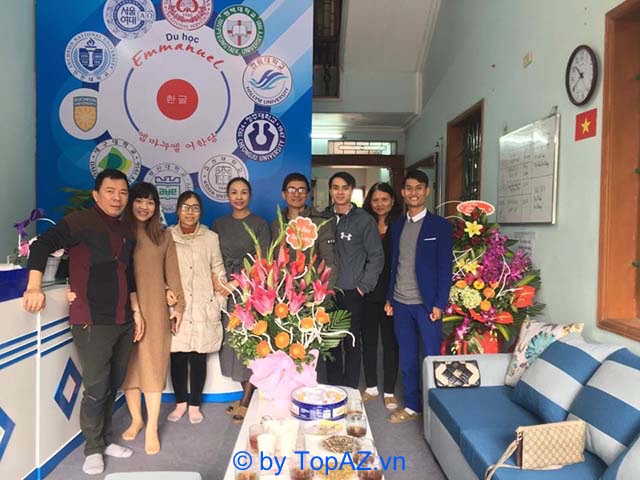 Classes at Emmanuel are arranged flexibly. Students can register for classes that suit their time and goals. The center also has enthusiastic counselors, helping you check your level and answer questions about the class.
Onnuri built a large, secure garage to help students feel more secure when going to class. The school also installed LED screens and a diverse library of books to create the best learning conditions for students.
In addition, Emmanuel also has useful academic clubs to help students learn and exchange foreign language skills with each other.
Contact information:
Address: 24 Le Loi, An Lao Ward, City. Hai Phong
Phone number: 0961 929 998
Email: duhocemmanuel@gmail.com
Website: duhocemmanuel.com
Fanpage: FB.com/profile.php?id=100005152170402
Criteria for choosing a quality Korean language teaching center in Hai Phong with reasonable tuition fees
A new prestigious Korean language training center meets the learning needs of students. You should refer to the following criteria to evaluate whether the center you choose to study is reputable or not:
Teacher quality: Korean is a new foreign language, difficult to learn with many complex structures. To acquire new knowledge about this language, the teacher is an important factor. Most of the teachers at the prestigious center are teachers with advanced degrees and experience working in Korean companies.
Education program: The curriculum and learning materials at the center must be renewed and updated according to current knowledge. In particular, Korean learners all want to achieve TOPIK certificate. Therefore, the curriculum of the prestigious center must be renewed, closely following the structure of changing exam questions each year.
Infrastructure: A cool, large and secure study space is a plus point for students to choose a reputable Korean language center to study.
Counselors: A quality center will have a team of professional consultants to help answer questions of students. At the same time, consulting the route and direction suitable for the students' purpose of learning Korean (working at a Korean company, eligible for graduation, studying abroad, labor export)
Clear commitment: for both training and study abroad consulting units. You need to carefully read the information presented in the contract to avoid encountering bad situations. Because, many training and study abroad organizations are not transparent to take advantage of trust and scam students.
---
Conclude: Choosing the right Korean language center in Hai Phong will help you learn this difficult language well. Whether you are a beginner from zero or someone who needs to increase communication skills, TopAZ Review hopes that through the above information, you have gained more useful experiences for yourself.
MAYBE YOU ARE INTERESTED: