Top 6 địa chỉ bấm lỗ tai cho bé tại Hà Nội uy tín an toàn (Cập nhật)
For young children, ear piercing for safety is a top priority. Therefore, to do this, parents need to find reputable and reliable places to pierce their baby's ears in Hanoi to perform for their children. Try to refer to the following 6 suggestions if you are still confused about choosing a reliable place.
Reviews of 6 reputable and safe places to pierce your baby's ears in Hanoi
Contrary to what adults often think ear piercing in children is not good. In fact, if performing ear piercing for a baby properly, it will become a safe and medically proven method of beauty and health of the baby.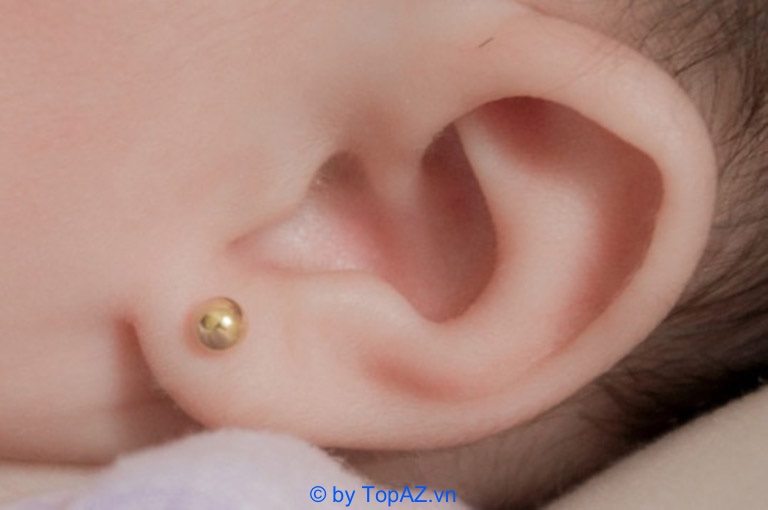 Therefore, choosing a safe place to pierce your ears is a top priority because letting your baby get their ears pierced in small shops, in roadside stalls will increase the risk of children being infected. Infections that bleed, exudate, cause pain and cause cosmetic loss are difficult to overcome when the child is an adult.
To evaluate a quality ear piercing address for a baby, parents need to pay attention to the following criteria: whether the place is done to ensure hygiene factors, whether the tools are clean or not; whether the operator is experienced; Does the implementation process meet the standards and does the place make children feel friendly, close, psychologically comfortable?
Here are 6 reputable baby ear piercing addresses for parents if they have not found a suitable place:
#01
Phung Thuy ear piercing – More than 30 years of operation
Phung Thuy ear piercing is one of the brands specializing in safe and professional piercing and piercing services with more than 30 years of experience. This place is not only professional and prestigious, but also chosen by a large number of customers because it ensures all safety and painless factors when applying modern European technology.
This is one of the technologies that has been researched and proven to be safe and has been applied in many countries around the world such as the US, Germany, the UK… with a step-by-step standardized implementation process to ensure absolute safety. for the person being performed.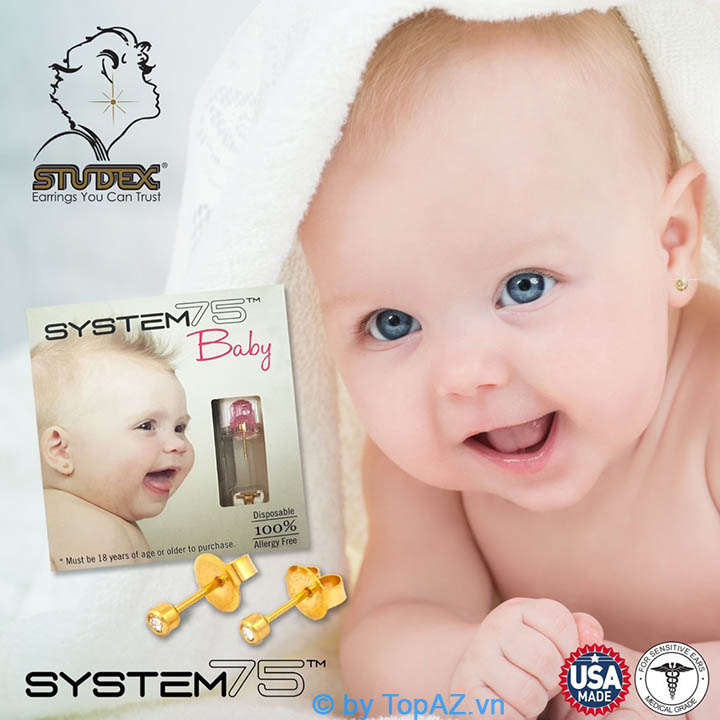 Besides, the products that press and press guns are imported directly from famous brands such as Calfon (UK), Studex (USA), Inverness (USA) and Phung Thuy are distributed exclusively in Vietnam. Men… In addition to a variety of services for ear piercing, nose piercing, navel piercing… in Phung Thuy, there are also safe and highly aesthetic baby ear piercing services.
The piercing process is safe, takes place quickly and still ensures absolute safety, every step is carefully performed according to a standardized process. Make sure all instruments are disinfected clean with a specialized sterilizer, the piercing needle used is a specialized medical needle that is only used once.
The staff who perform baby piercings are all people with long experience in the profession, have successfully performed many piercing cases for customers of all ages, have high aesthetic taste and always wear masks. , wear gloves throughout the piercing process.
Contact Info:
Address:

Facility 1: 74B Cau Go, Hoan Kiem, Hanoi
Facility 2: No. 2 Alley 385 Hoang Quoc Viet, Cau Giay, Hanoi (Opposite ADC bookstore)
Facility 3: 70 Chien Thang Street, Ha Dong, Hanoi
Facility 4: 78 Nguyen Son, Long Bien, Hanoi
Facility 5: 62 Nguyen An Ninh, Hoang Mai, Hanoi

HotLine: 0912131409 – 0902701983
Website: bamlotaiphungthuy.com
Fanpage: FB.com/bamlotaiphungthuy74bcaugo
#02
Hanoi maternity hospital
Hanoi Obstetrics and Gynecology Hospital is known as the city's first class specialized hospital in the field of Gynecology and Family Planning. This place is trusted and chosen by a large number of people to give birth, to ensure a favorable birth process and to be comprehensively cared for by doctors, midwives, and nurses.
Newborn babies will be cared for from A – Z, bathed and performed abnormal checks to promptly handle while still in the hospital. Every day, the medical staff will bathe the child in the morning, keeping the body clean and safe.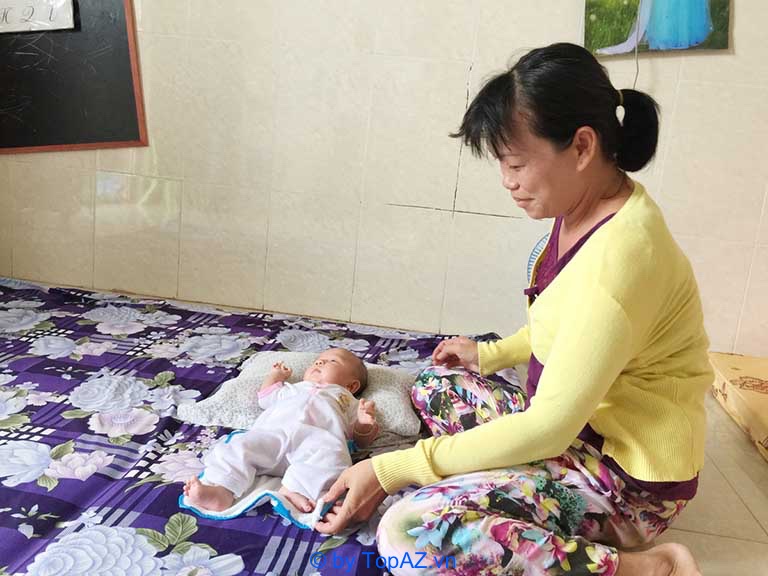 In particular, at Hanoi Obstetrics and Gynecology Hospital, there is also a free ear piercing service, performed by professional, skilled midwives and performed gently, quickly and decisively to help children reduce pain. pain, no bleeding and very safe.
Usually, babies after having their ears pierced will wear a thin thread, then after a while when the ear piercing has healed, there is no pain anymore, parents can buy an earring to wear for the child.
Contact Info:
Address:

Facility 1: No. 929 – La Thanh Street – Ngoc Khanh – Ba Dinh – Hanoi.
Facility 2: No. 38, Cam Hoi, Hai Ba Trung, Hanoi. Tel: 0246 2785 746
Facility 3: No. 10, Quang Trung Street, Ha Dong, Hanoi. Tel: 0243 3512 424
Emergency hotline: 0243 8343181. Booking: 19006922
Website: benhvienphusanhanoi.vn
#03
Central maternity hospital
At the National Hospital of Obstetrics and Gynecology, providing birthing services, infertility treatment, and caring for the fetus at home. These can be mentioned as antenatal care, mother and baby care after birth, taking samples for testing …
Ear piercing for children at the National Hospital of Obstetrics and Gynecology is the perfect choice because the child will be done in completely sterile conditions at the hospital. Not only that, the performer is also experienced, gentle, and the process is quick and definitive without causing pain to children according to the regulations of the Ministry of Health.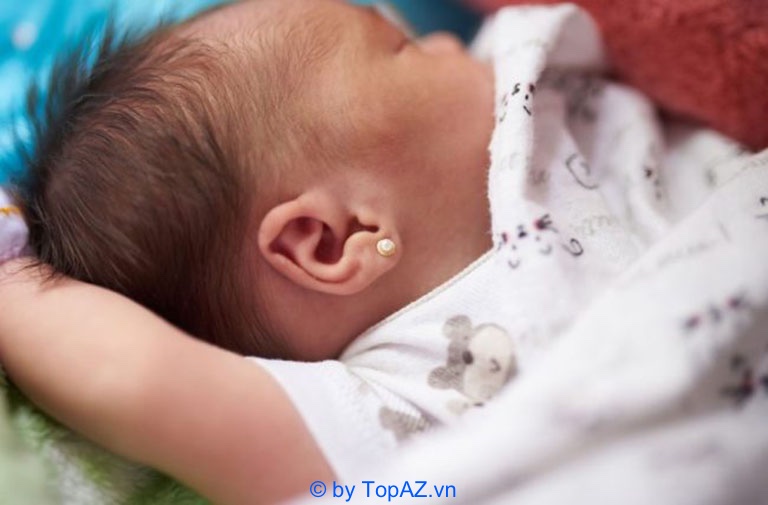 Contact Info:
Address: 43 Trang Thi, Hoan Kiem, Hanoi
Phone number: (024) 38252161
Website: benhvienphusantrunguong.org.vn ; phusantrunguong.org.vn
#04
Cock Stock
When it comes to reliable baby ear piercing addresses in Hanoi, the first name that cannot be ignored is Cock Stock. This is one of the brands with a long history of establishment and development, pioneering and leading in piercing and piercing that is known and preferred by a large number of customers.
Cock Stock aims at piercing services for all customers of all ages, from large to small, following new trends suitable for each time by exploring this field from a new, civilized and modern perspective in the world. piercing art. This place not only focuses on piercing quality but also invests in professional, comfortable and safe facilities.
Not only that, accompanying it is a team of Cock Stock workers with high expertise, enthusiasm for the profession and always putting the needs of customers first. In which, in addition to ear piercing services for adults, especially young people, Cock Stock also has extremely safe and quality baby ear piercing services.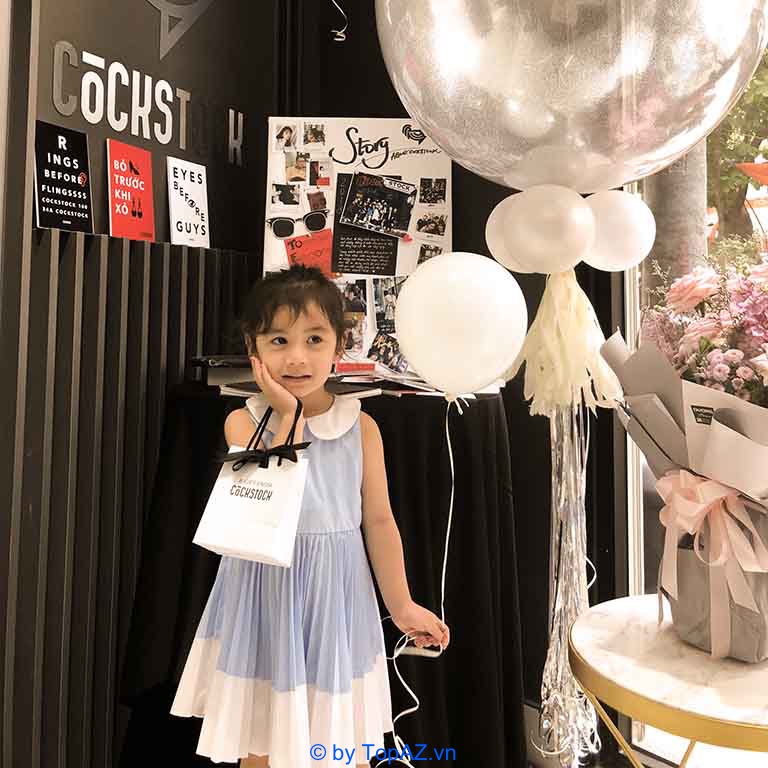 With many years of experience in the profession, Cock Stock can completely meet all the needs of customers, is one of the safe, gentle and suitable baby ear piercing addresses for children. Committed to the process of safe implementation and absolute hygiene, all instruments are disinfected by leading specialized sterilizers imported directly from abroad.
In addition, during the implementation process, make sure that the workers performing the work must wear gloves and masks. The skill of the practitioner is professional, experienced, and the piercing operations are definitive and quick, helping the child not to hurt too much, providing an extremely gentle experience.
Not only that, parents who choose to do their baby's ear piercing at Cock Stock also have a full care and warranty regime after piercing. The process of taking care of the piercing is done carefully so that the child has a beautiful, safe and healthy ear piercing. Especially, at Cock Stock, this is a completely free service.
Contact Info:
Address:

Facility 1: 34A, Cao Ba Quat, Ba Dinh District, Hanoi
Facility 2: 100 Tam Khuong, Dong Da District, Hanoi (House number 100 lane 10 Ton That Tung)

Hotline: 1800 6748
Phone number: 083 518 8288
Website: cockstock.com.vn
Fanpage: FB.com/CockStockVN
#05
Baby Care Viet
Baby Care Viet is one of the prestigious addresses in Hanoi with a safe home ear piercing service for babies, from newborns to older children. Not only that, Baby Care Viet also offers a variety of health care services for mothers and babies such as:
Services for babies: Bathing the baby to take care of the umbilical cord, drying betel leaves, sunbathing…
Services for pregnant women: herbal massage, herbal shampoo, herbal face mask, body scrub…
Services for women after giving birth: herbal steam massage, milk gland unclogging massage, belly fat reduction massage, dressing change, thread trimming…
Each service is performed according to a step-by-step standardized process, ensuring obvious results after implementation and ensuring absolute safety for health.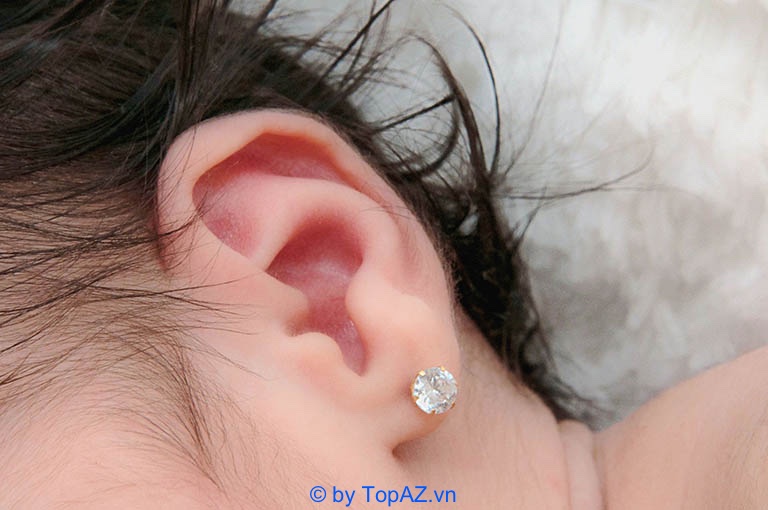 In particular, baby ear piercing is a service that is highly appreciated and preferred by many parents as a choice to perform for their children. Ensure the process is performed in sterile, accurate, safe and painless conditions for children. Ear piercing service at Baby Care Viet is performed by bachelors of Midwives who directly perform, have experience in caring for and piercing children's ears effectively and safely.
The process of doing ear piercing for children at Baby Care Viet takes place step by step as follows:
Step 1: Check the child's ear area for infection, any open wounds to determine whether the child is eligible to perform or not.
Step 2: Prepare all tools, needles, gloves…
Step 3: Perform thorough disinfection on hands and ears to be pierced.
Step 4: Carry out quick piercing to minimize pain.
Step 5: Apply medicine after piercing to relieve pain.
Step 6: Instruct parents on how to clean and care for their ears thoroughly after piercing.
Contact Info:
Address: 231 Tan Mai, Hoang Mai District, Hanoi
Phone: 04.6293.55.00 VND
Mobile: 09.1997.1661 – 091998.1661
Gmail: babycareviet@gmail.com
#06
Pierced Duck
In the TOP 5 list of reputable baby ear piercing addresses in Hanoi, Duck Piercing is also a worthy reference for older children who have not had their ears pierced since birth. Since its establishment until now, Piercing Duck has won the trust of customers, since then, it has made more and more efforts in terms of technique, investing in facilities to bring customers the best experience. best service.
Coming to Duck Piercing, you will be thoroughly consulted about the service, depending on whether the person performing the piercing is an adult or a child, the staff will advise further. The process of doing baby's ear piercing at Piercing Duck is performed by skilled workers, ensuring absolute safety and gentle, definitive, painless manipulations.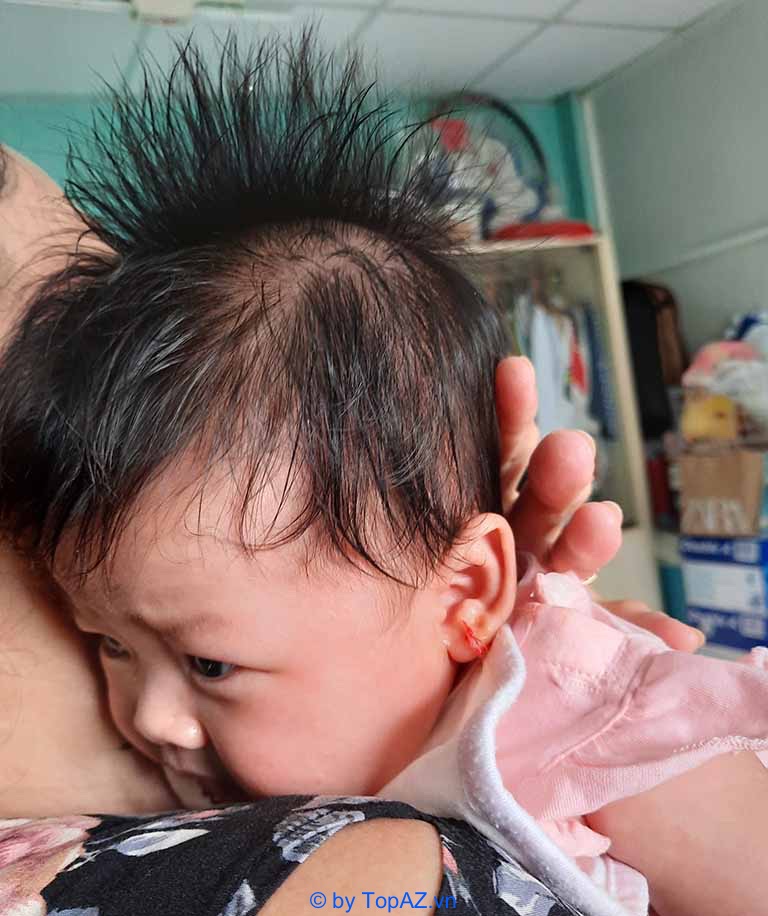 This place is designed with a spacious, airy and pleasant space, where children can comfortably play. The dedicated, enthusiastic and friendly staff makes it easy to dispel the child's fears before the piercing is done.
Above are the TOP 5 addresses for ear piercing for babies in Hanoi that are highly appreciated by many people and have positive feedback. Depending on the needs and time of the child's piercing, parents can choose a suitable place to perform it. For example, for babies, piercing should be done at the hospital right from the time of birth, and for older children, it can be done at major piercing shops to ensure safety and high aesthetics.
MAYBE YOU ARE INTERESTED:
Top 10 fat loss spa, weight loss after giving birth in Hanoi
TOP 10 prestigious herbal shampoo spa in Hanoi should choose